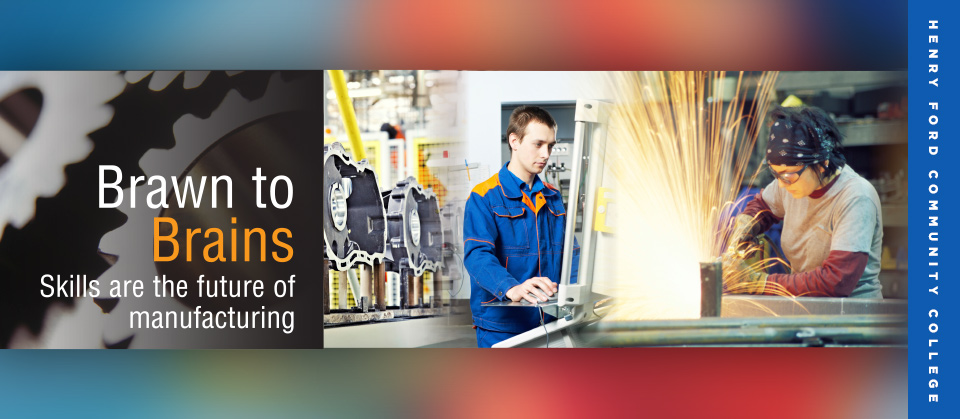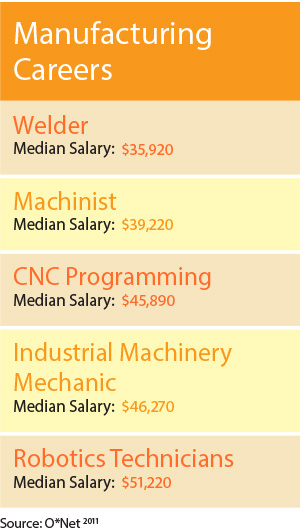 You may have heard that manufacturing jobs are a thing of the past. While it's true that old-fashioned assembly line jobs are dwindling, a new kind of manufacturing job is starved for skilled workers.
Today, over 60 percent of manufacturing employees have at least some college education, according to a U.S Department of Commerce report. And a 2011 report from the Manufacturing Institute estimates that 600,000 skilled manufacturing jobs are currently unfilled because employers can't find qualified workers.
As a result jobs such as skilled machinists, equipment operators, welders and technicians go begging.
Mitchell Sepaugh who teaches in the industrial automation program at Cleveland Community College in Shelby, North Carolina says that automation is what is driving modern manufacturing. "We live in a push button world, but automation is what makes pushing the button work," he says. "There will always be a need for workers who can program, manage and repair devices."
Technicians 
Some of the modern manufacturing jobs in demand are technical, such as CNC programmers, robotics technicians and industrial machinery mechanics. These workers are the brains behind the machines.
At Applied Manufacturing Technologies in Orion, Michigan, a company that designs and programs automated equipment for manufacturers, 10 new employees with skills in computer-controlled manufacturing were hired just this year. "And we would have hired 10 more if we could have found them," says Diane Haig, the company's chef knowledge officer.
These jobs typically require an associate's degree that provides a foundation of computer or mechanical skills.
Trades
Others jobs in demand, such as machinists and welders, required skilled workers who can perform intricate, custom work.
In Saginaw, Michigan, Merrill Technologies manufactures parts for the solar, wind, gas and oil drilling and defense industries. They routinely have openings for up to 20 CNC machinists that they wish they could fill.
"We have had to turn work away in the past," says co-owner Jeff Yackel. "We have machines sitting idle because we don't have operators."
Welders and machinist usually earn a certificate or associate's degree to acquire the skills they need. Welders must learn a range of techniques for welding a variety of metals. And machinists learn to create and use CAD blueprints and operate lathes and milling machines to produce prototypes.
Important basics
Even entry-level jobs in advanced manufacturing are difficult to fill. In Mooresville, North Carolina, NGK Ceramics USA, a supplier of emission control equipment for auto and diesel manufacturers anticipates hiring more than 80 employees for entry-level jobs, said J. Todd Alexander director of administration.
Basics such as mechanical aptitude, problem solving skills and good communication are among the qualities they're seeking in candidates.
As a result, community colleges around the country such as Mitchell Community College in Statesville, North Carolina are partnering with local industries to offer short-term training to prepare students for these jobs.
Laura Lyjak Crawford