Providing Quality and Value to Industry
The technology involved in Computer-Aided Drafting (CAD) is constantly changing. Fortunately, HFC's CAD Technology/Industrial Drafting Technology program is able to accommodate these changes and more.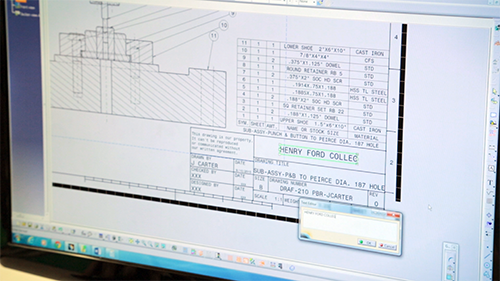 According to Roger Weekes, lead instructor and dept. coordinator, the College offers instruction in three different types of 3D Solid Modeling CAD software programs currently used in the industry. For instance, Ford Motor Co. uses CATIA; General Motors (GM) utilizes UG-NX; and various Tier 1 companies use SolidWorks. All of HFC's CAD Technology programs offer certificates in these three CAD software programs.
In addition, HFC offers an associate degree in Industrial Drafting – CAD Technology and an associate degree in CAD/CAM Technician. An associate degree in Engineering Technology – the courses of which overlap with the CAD Technology Program – is available through HFC's Math and Science Division.
"Our program addresses the needs of industry in terms of drafting, designing and design-engineering. Students receive a breadth of knowledge transferable to make them work-ready. This is achieved through hands-on and project-based learning," said Weekes.
Weekes also noted that most automotive companies use ICEM Surf, a sophisticated software program that creates Class "A" surfaces, which are smooth, shining surfaces on automobiles. HFC offers a class titled "Special Topics: Class 'A' Surfacing – ICEM Surf." In fact, engineers who work at Ford teach this particular class, which provides students with leading edge professional insight from the experts.
"HFC is probably the only educational institution in the nation offering such a class utilizing Dassaults Systèmes (DS) software and ICEF Surf, which opens us up for national and international renown. The beauty of this class is when it's finished, the instructors place our top students on co-op immediately at Ford," said Weekes.
Recently, the HFC CAD Program achieved a designation as a DS Certification Center. Based in Dearborn, DS is a world leader in the 3D solid modeling and surfacing software program. The DS Certification Exam will now be offered at HFC.
"That's fantastic. I'm very proud of that. We've been after this for a long time. Offering this certification exam through the College lends more value to our program and to the industry as a whole," said Weekes.
He also said that a significant highlight of the CAD program is that the classroom boasts state-of-the-art CAD Technology. It's also set up to simulate a working/learning/teaching environment.
"It's like coming to work. Students must submit a cover letter and résumé the first week of class, laying out their career goals. During class, they're required to focus on their work only—posting on social media is not allowed nor communication with people outside of class during the class time. My goal is to not only teach them the latest in CAD technology, but also shape them into young, respectful professionals," said Weekes.
Daniel La Rou, global director of Design for Inalfa Roof Systems in Auburn Hills, is very impressed with the caliber of students who have graduated from HFC's CAD Technology program. In fact, three HFC alumni – Nathan Twehues and brothers Sajad and Zaid Al-kufi – began at Inalfa as co-op students. They have subsequently earned promotions to full-time employees.
"Through this mentoring program, their CATIA skills have advanced at an accelerated rate. With the skills taught at HFC, it makes an easy and seamless integration for Inalfa to bring on new designers from the College into the workforce. They are not only very talented individuals but have a strong level of confidence and interact with their co-workers at a very professional level. As our company continues to grow, I have full confidence that we can count on HFC to provide the creative talent and skill level of future designers that Inalfa requires," said La Rou.
– Kurt Anthony Krug
For further information about HFC's CAD program, contact Weekes at 313-317-1582 or rrweekes@hfcc.edu.