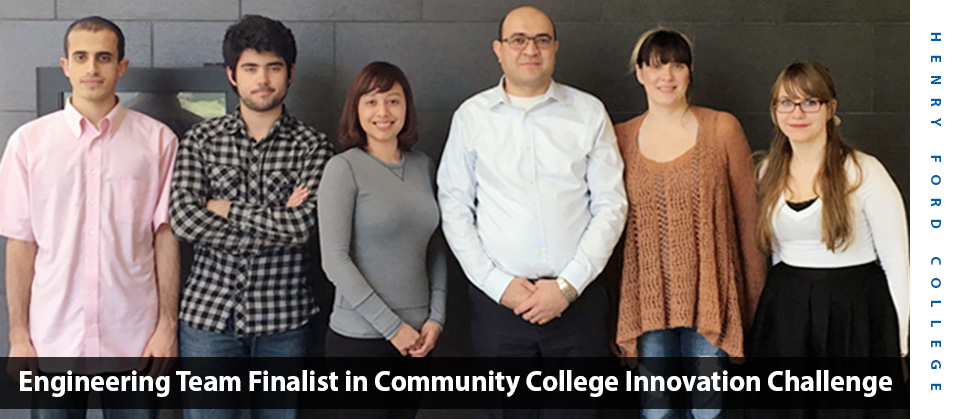 The National Science Foundation (NSF), in partnership with the American Association of Community Colleges (AACC), named a team of HFC Pre-engineering students as one of the 10 finalists in the second annual Community College Innovation Challenge (CCIC) this past spring. This is HFC's second consecutive year of earning this prestigious honor as one of the CCIC's 10 finalist teams.
The HFC team's project was called "Rescue Restaurant Food Waste to Address Hunger." In the United States (U.S.) alone, 40 percent of the nation's food goes uneaten. Of that 40 percent, 15 percent alone can be attributed to restaurants. In response, the team proposed to develop a compact, easy-to-use, self-automated food-preserving machine for restaurants. Such a system would then allow unused food to go to those who experience food insecurity.
The team members – Ahmed Shawhatti, Denis Sinani, Issamar Almaraz, Alexis Fitz Owens Tressler and Victoria Peruski – worked under Dr. Hassan Nameghi, an HFC engineering professor and the team's faculty mentor.
The team's solution is to invent the proposed food-preservation machine for restaurants to efficiently preserve its extra food for donation. Advanced mechanical and electrical control systems were used in the creation of the food-preserving machine to accommodate automatic cleaning, labeling, food preparation and customized food functions.
To make this a reality, the team plans to patent this idea, apply for approval from the Food & Drug Administration (FDA) and pitch the idea to food donors. In fact, they made a presentation on Capitol Hill in June. They also met members of Congress.
"Being a finalist for the second year at the CCIC proves that success is not a random matter at HFC, but that aiming for excellence is a habit. We are proud of our students' accomplishments, the faculty's dedication and the educational support at the College," said Nameghi.