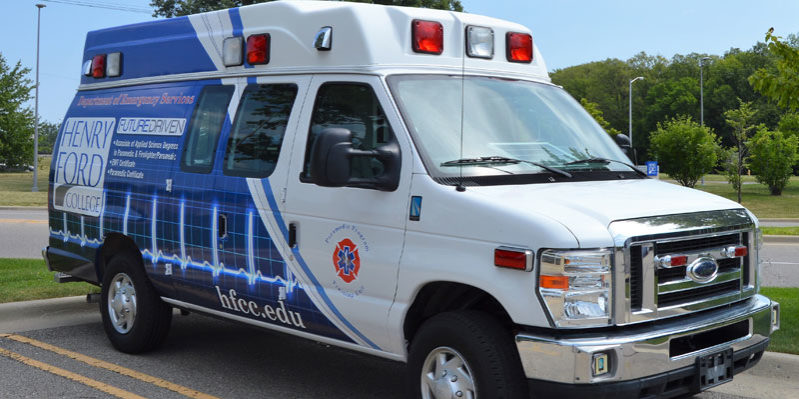 The EMS program at HFC is very hands-on. It's so hands-on that EMS students use an actual ambulance as an extension of the basic and advanced EMS labs.
"HFC is very fortunate to have such a nice ambulance for our EMS students. It was recently redesigned with state-of-the-art equipment and a slick new HFC logo. It looks great," said Shannon Bruley, HFC EMS program director.
The training ambulance is designed as a regular working ambulance, according to Bruley. EMS students need to instinctively know where various tools and equipment are located within an ambulance, as well as adapt to working in an ambulance's confined space. It could mean life or death for a patient.
During labs, EMS students must respond to simulated 911 calls from around the campus. When they arrive on the scene of a simulated 911 call, they quickly assess the medical emergency and assist "Kelly," a human patient simulator. They treat Kelly on the spot and transport her back to the lab just as if they were transporting an actual patient to the hospital.
"It's realistic because Kelly looks and acts like a human," said Bruley. "There is a computer interface that allows Kelly to communicate and respond to treatments. It's very exciting to see this in action."
EMS students and faculty often participate in campus events and bring the ambulance when it's appropriate. At these events, the ambulance is open for community members to tour. In some cases, EMS students perform demonstrations on people, placing them on the stretcher, strapping them in for a ride, or assessing their vital signs (heart rate, blood pressure, pulse check, et al).
"It's really fun to be in an ambulance when you're curious about it and you can see how it works instead of actually needing to be in one for medical reasons," said Bruley. 
For further information about HFC's EMS program, contact Bruley at 313-317-6582 or sbruley@hfcc.edu.