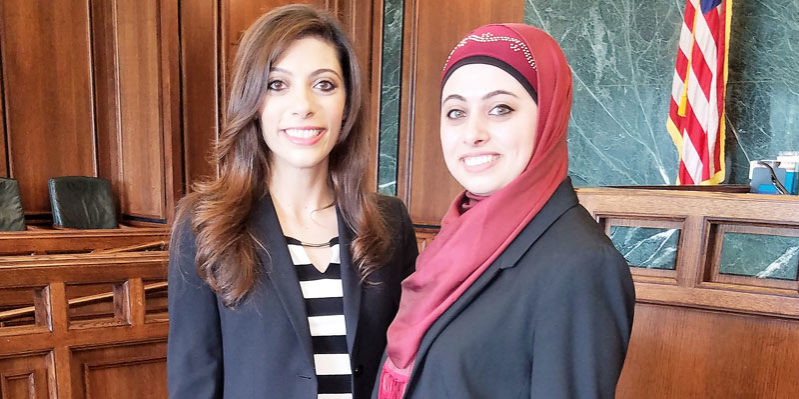 Being dual-enrolled at Fordson High School and HFC enabled the Saad sisters – Batool and Zeinab – to get comfortable taking college courses. It also set them on their career paths to becoming attorneys. 
"I took an international relations class my junior year, which sparked my interest in law," said Batool, one of the Top 10 in her 2010 Fordson graduating class. "Starting at HFC really gave me the motivation and confidence to start my career."
During her HFC days, Batool was a reporter for The Mirror News and a member of HFC's Henry Ford II Honors Program. She was also a recipient of the 2011 All-USA Community College Academic Team scholarship.
"We were a very tight-knit group at The Mirror News. We were very diverse. It made me comfortable entering college," she said. "Being part of the newspaper and the honors program gave me the confidence to move forward with my education."
Batool graduated from HFC in 2011 with her associate degree in Liberal Arts. She received the Wayne State University Presidential Transfer Scholarship. In 2013, she earned her bachelor's degree in Honors English from Wayne State.
From there, she attended the Michigan State University College of Law in East Lansing with her sister, Zeinab Saad, who was also her roommate and confidante.
Like Batool, Zeinab was dual-enrolled at Fordson and HFC, graduating from Fordson in 2009 as salutatorian of her class and simultaneously earning her associate degree in General Studies from HFC. Zeinab attended Wayne State after receiving the Presidential Scholarship and graduated in 2012 with her bachelor's degree in Honors Psychology.
Legal Eagles
When asked if she planned to follow in Zeinab's footsteps, Batool laughed, insisting that their paths just led them in the same direction.
"Zeinab was my partner in crime during law school," said Batool. "Having her there made the culture shock of being in law school bearable. We were able to bounce ideas off each other. We were able to grow together. We were able to take the next step in our lives together."
Zeinab and Batool took on many leadership roles during their time at MSU Law. They invested their time in many student groups including the Middle Eastern Law Student Association, the Women's Law Caucus, and the Student Bar Association. The sisters graduated from MSU Law in 2016.
While a law student, Zeinab completed legal externships with the Wayne County Prosecutor's Office Elder Abuse Unit, the University of Michigan Health System Compliance Office, the legal and compliance departments of Diplomat Specialty Pharmacy, the Henry Ford Health System. She was also a law clerk for Health Advocates, PLLC in East Lansing. Currently, she is an associate attorney at Kitch Drutchas Wagner Valitutti & Sherbrook, a national full-service law firm headquartered in Detroit. She specializes in birth trauma and medical malpractice defense.
In turn, Batool was a judicial intern for the Supreme Court of Michigan and the Michigan Judicial Institute in Lansing. She later interned at the Elder Law Clinic in Redford. Currently, Batool works as an attorney at the UAW Legal Services Plan in Wayne, MI, specializing in estate planning for UAW members.
"I represent union workers for the Big 3 (automakers)," said Batool. "We provide them legal services, which seems only fair after everything they've provided to the larger community all these years. Working closely with them, I've found them to be very passionate and hardworking. I feel I have to be just as passionate and hardworking and assist them in any way possible."
A Family Affair
The sisters are two of six siblings who are children of Lebanese immigrants, and all six graduated from HFC. Their siblings are Jamil Ali Saad, Nassrine Ali Saad-Hussein, Samira Ali Saad, and Sukinah Ali Saad.
Each of their siblings has become successful in their chosen field: a network systems engineer, a learning resource teacher, a doctor of clinical pharmacy, and a healthcare compliance specialist. All of them speak fluent English and Arabic. Their father, Ali Jamil Saad, is a senior IT architect who has worked on the IT mainframe at the Dearborn headquarters of AAA Michigan for more than 35 years. Their mother, Badrie, is a homemaker and "the foundation of their family," according to Batool and Zeinab.
"We were all born and raised in the United States," said Batool. "Our parents have always been part of all of our achievements and successes. They have taught us the value of a good education and using such an education to help others. They have instilled in us a desire to persistently want to become better. They encouraged us to take the next steps and challenge ourselves. Their endless dedication to ensuring we have access to the resources we needed allowed us all to become successful. They are strong, motivated people who try to keep a smile on their faces at all times. Every one of our siblings has accomplished a great deal due to our parents, and we are tremendously grateful for their love and support."