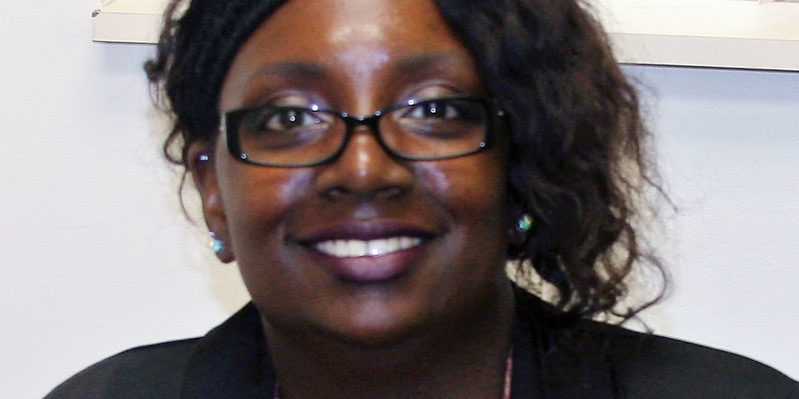 Shanna Simpson-Singleton is back at HFC to teach mathematics, 13 years after her journey at HFC opened her mind and her future.
"I like the climate at HFC," says the 2005 HFC alumna. "My eldest son, Zechariah, was in the childcare center while I attended class. The teachers made a difference in my life. I want to pay it back, and pay it forward at the same time," said Simpson-Singleton, who earned her associate degree from HFC in general studies, with a concentration in mathematics.
A graduate of Cass Technical High School in Detroit, she transferred to Eastern Michigan University in Ypsilanti after completing her HFC degree. She earned her bachelor's degree from EMU in 2010 in mathematics with a minor in computer science. Three years later, she earned her master's degree in mathematics from EMU. She is currently a doctoral candidate at EMU, studying educational technology and information assurance. She and her husband, Derek, live in Taylor with their three children. 
She has a heart for underrepresented students. "My graduate research has shown me how to increase the pass rates and degree completion rates for minority women, low-income students, and first-generation college students," she said. "I met all those categories, and it always come back to HFC, because the people here invested in me."
Math Maniac
At HFC, Simpson-Singleton didn't shy away from taking several math classes at a time. In a single semester, she took Differential Equations, Linear Algebra, and Calculus III. As a student, she was active in the Math Club and Phi Theta Kappa.
"It's very surreal that my teachers from when I was a student here – Scott Barnett, Jeff Morford, Larry Smyrski, and Janice Gilliland – are now my colleagues," said Simpson-Singleton. "I used to go to their office hours religiously. In fact, I staked them out. I'd be waiting for them in the morning as they'd come into work," she added, laughing. "If it weren't for them, I don't know where I would have ended up. They took the time to get to know me, and that left an impression on me to this day. They believed in me more than I believed in myself."
"Shanna represents the best of what community colleges offer the community," said Morford. "After her time here, Shanna trained as a mathematician and educator. She has returned to the College to serve students who also want to complete a degree. Through her work with Gateways to Completion and math courses, she aims to make that path to a degree more straightforward for the students who follow her. I have worked with her in the math co-requisite project, and it's clear to me that she expects a lot of her students, and that she supports them to meet her expectations."
She Does Math!
When Simpson-Singleton was an HFC student, Dr. Thomas Kelly, a now-retired HFC mathematics professor, gave her a classroom resource book, She Does Math! by Marla Parker.
"Whenever I'm upset, I look at this book," she said. "It's a reminder of what I can do."
Gilliland and Barnett have praised their former student.
"Shanna has been an outstanding contributor to HFC as a student, student worker, adjunct faculty member, and now is serving on the steering committee for the Gateways to Completion project. I am happy to have her back at HFC and am proud of her achievements," said Gilliland, who is now the Dean of the HFC School of STEM.
Added Barnett: "I recognized Shanna's name immediately when going through applications to teach part-time in the math department. It's been great to have a former student return as a colleague."
Upon earning her doctorate from EMU, Simpson-Singleton plans to continue teaching at HFC. She hopes to eventually teach full-time. "I want to teach at HFC and gave back to the students. There's a family-like feeling here," she said. "HFC helped me the most; it molded me into the professional I am today.""