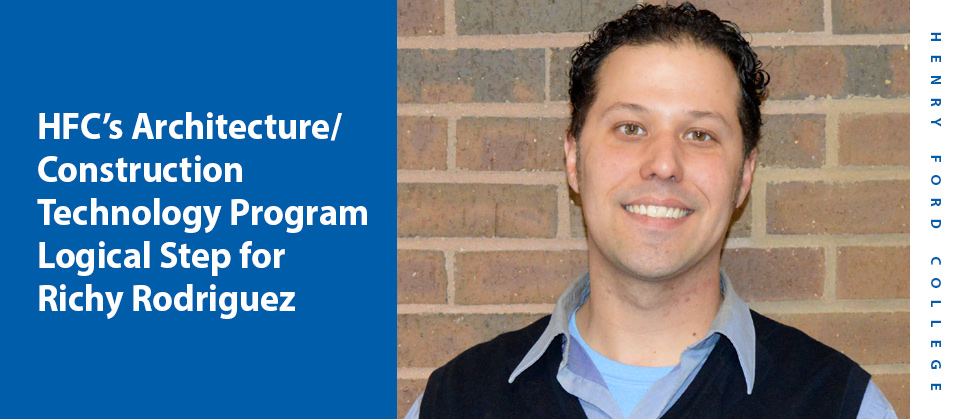 An alumnus of Dearborn's Edsel Ford High School and Ferndale's Joint Apprentice Training Center (JATC) where he was certified as a journeyman carpenter, Richy Rodriguez felt HFC's Architecture/Construction Technology (ACT) program was the next logical step in his career.
"I thought it was just a good path to follow. I've been on the building side of things – I know how a building comes together and I wanted to learn about the other end. I've worked on change-orders with architects and know what looks good on paper won't necessarily work in the field. Having a building background and transitioning into architecture has been a good fit for me," said Rodriguez, of Dearborn.
Currently, he works as an assistant project manager for the Detroit office of Homrich, a demolition company based in Carlton, Mich. Prior to joining Homrich in late 2015, he worked as a construction inspector for the City of Detroit. He spent more than a decade working as a carpenter. He credits HFC's ACT program for his last two jobs.
"The ACT program was very knowledgeable – not just from an architectural standpoint – but it gives you a base to start with any architecture firm in terms of what's expected of entry-level employees. The teachers were great. They were willing to help out and were very knowledgeable about what the industry as a whole demands – from the idea of a building to the finished product of a building," said Rodriguez.
He has high praise in particular for HFC ACT Lead Instructor Chad Richert.
"Chad's great. He's a fun guy to learn from. He always reached out and made sure we get the most out of the program. His door was always open. He had the book knowledge but also had the practical experience; he could teach you things you couldn't learn in a book. He's a good mentor," said Rodriguez.
Rodriguez is slated to graduate from HFC in late 2016. From there, he plans to pursue an undergraduate degree in Civil Engineering from the University of Michigan (U-M).
"I really enjoy what I'm doing now," said Rodriguez. "I get to see a lot of Detroit. I get to see a lot of positive change and growth in the city's rebirth," he added.
– Kurt Anthony Krug