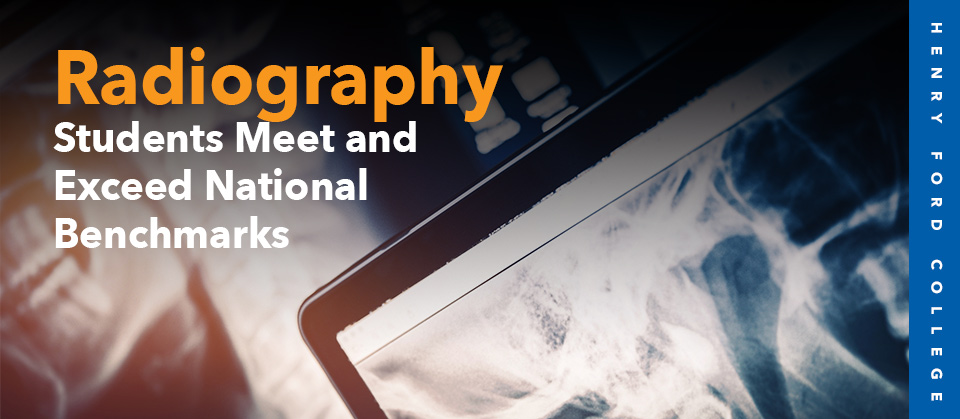 HFC's Radiographer (RAD) Program continues to meet and exceed many national benchmarks, including the student pass rate on the national credentialing exam.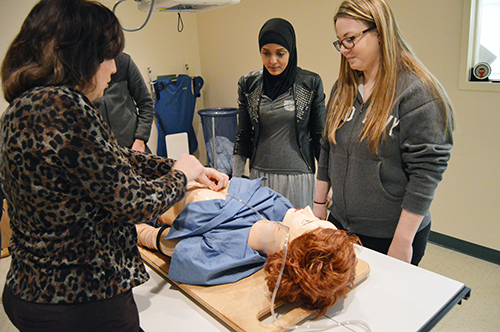 Students in the RAD Program have a 93 percent pass rate on the American Registration of Radiologic Technologists (ARRT) National Credentialing Exam over the course of five years. This applies for students who passed the exam on the first try. Of the students who took the exam on the first try, 103 out of 111 passed.
"Our RAD Program prides itself on its theory-into-practice model of education. Students rotate to clinical sites their first semester, first year and then go forward throughout the program. We are extremely thankful for the 17 excellent clinical sites throughout southeast Michigan who partner with us to teach our students the art and science of radiography," said HFC RAD Program Director Sharon Wu.
Over the course of five years, HFC students who took the ARRT National Credentialing Exam on the second attempt achieved 96 percent. Of the 111 students, 107 passed the exam on their
second try.
Per the Joint Review Committee on Radiologic Technology (JRCERT), HFC is required to set a benchmark for its retention rate of its RAD Program. Over the course of five years, HFC exceeded its own benchmark of 75 percent or greater. As of 2016, the retention rate of students in the HFC RAD program is 83 percent.
Additionally, the HFC RAD Program has exceeded the JRCERT benchmark of no less than 75 percent of students who find employment within 12 months of graduation. For 2016, 90 percent of HFC students (19/21) who have graduated from the RAD Program are gainfully employed.
Eric Miller, an alumnus of John F. Kennedy High School in Taylor, graduated from HFC in 2016 with his associate degree in Applied Science. Since July, he's worked as an X-ray technician at Henry Ford West Bloomfield Hospital.
"They teach you in this program not only how to do X-rays, but how to act, how not to act, what to do in operating room (OR) settings. At the beginning, they give you a personality evaluation that helps you with what suits you, your study habits, things of that nature. I don't think I would be successful if I didn't enroll in this program," said Miller, of Belleville.
Ryan Jowske, a 2015 alumnus of Henry Ford Early College (HFEC), graduated from HFC with an associate degree in Applied Science. The HFEC is a partnership between HFC, the Dearborn Public Schools and Henry Ford Health System (HFHS) where students earn a high school diploma and either an associate degree in a health-related field or two years of transferable college credits.
Currently, Jowske works as a radiographer for Mobile X in Southfield, while attending the University of Michigan-Dearborn (UM-Dearborn). At UM-Dearborn, he's majoring in biochemistry. He aspires to attend medical school.
"It's a great program. I learned a lot. It makes me feel confident when I go into work that I know what I'm doing. It's put me on the right track for medical school, having a background in health care," said Jowske.
Pinar Ozbek, of Dearborn, agreed with Jowske and Miller. She graduated from HFC in 2006 with an associate degree in Applied Science. She went on to earn her undergraduate degree in Organizational Leadership from Pennsylvania State University (Penn State). Currently, she works in the Healthcare Division of General Electric (GE).
"HFC has given me a great foundation in radiography technology. The program has provided me with deep knowledge and clinical training, which prepared me well to obtain a job as soon as I graduated. HFC has such a reputable program. I have always been honored to say, 'I graduated from HFC,'" said Ozbek.
Kurt Anthony Krug
For questions or further information about the HFC Radiographer Program, visit https://www.hfcc.edu/academics/programs/radiographer