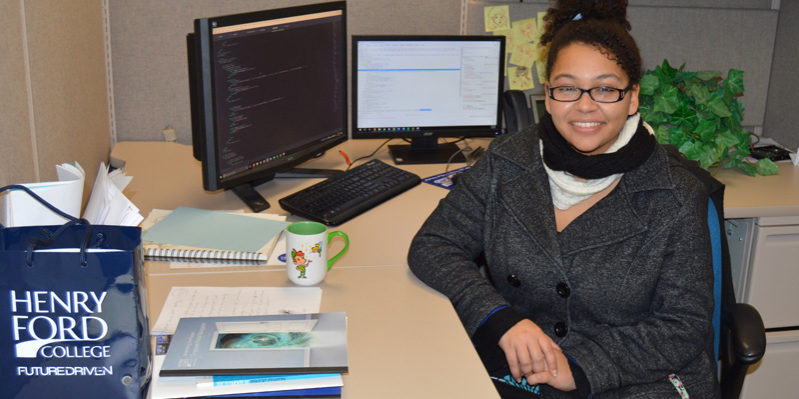 By the end of 2018, Brandi Jackson will be the very first HFC student to have earned her associate degree in web development, an HFC academic program that is new and booming. She only has two classes to go.
"I remember the first time I worked on coding for a website. Once I made it work, it was the best feeling ever. I cried, I was so happy," recalled Jackson, laughing.
Jackson was hired by HFC's IT department as a work study intern in January 2017. In October, she was hired as a full-time employee of HFC, and she now contributes as a core member of the web team.
A Detroit native, Jackson graduated in 2010 from Hononegah High School in Rockton, IL. She completed coursework at Columbia College in Chicago, the University of Illinois, and Washtenaw Community College in Ann Arbor. She eventually made her way to HFC, which was a better fit for her.
"I've been very happy with my education here at HFC," said Jackson. "Every instructor in the Computer Information Systems department cares. They're really personable. They've asked for my résumé to pass on to their colleagues in the IT field. They know of immediate job openings, which students have filled once they've graduated. In fact, I got a freelance assignment through the CIS department."
The curriculum is key, of course, but Jackson says the instructors are the core strength of the program. "The faculty have gone out of their way to answer my emails at 2:00 a.m. HFC focuses on practical application and lets you form relationships with your instructors. In fact, you're encouraged to form these relationships, because they help you succeed in class and in your career."
Jackson is one of several members of the HFC web team who manage the design, structure, and function of the College's external website, hfcc.edu, and related sites and services. One of her recent projects was redesigning the student portal, which launched the first week of March to provide a more seamless, student-centered online experience. Her duties vary daily, and are very collaborative—something she likes. One day, she could be fixing minor glitches; other days, she could be redesigning entire sections of the website. Customer service is a key focus for the whole team.
"I've been here long enough to take the lead on projects," she said. "I do mock-ups. I do design work. I find my work very enjoyable. Four hours could go by when I'm focusing on a project and it only feels like 10 minutes have passed."
Kurt Anthony Krug