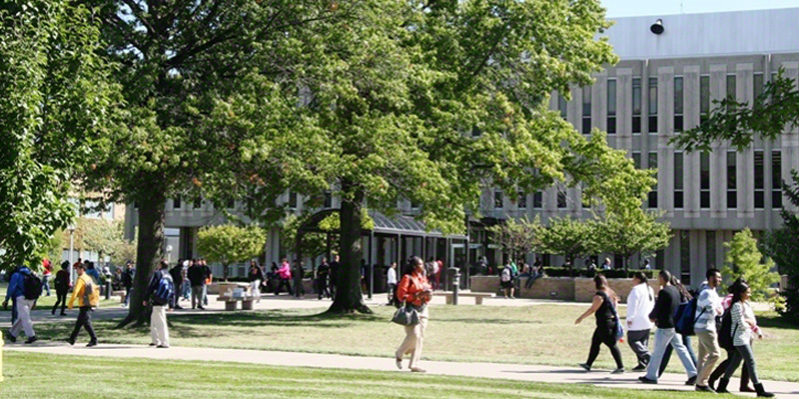 This year marks the 80th anniversary of Henry Ford College – the oldest community college in Southeast Michigan. HFC opened its doors as Fordson Junior College in 1938, then became Dearborn Junior College in 1946. In 1952, it was renamed Henry Ford Community College to honor the Henry Ford Trade School, which closed down and transferred its assets to the College. Upon offering its first bachelor's degree in the Culinary Arts program, the name was changed to Henry Ford College in 2014.
While the College's name has undergone changes in the last 80 years, its mission has not changed, because it's who we are: HFC is a FutureDriven institution that offers affordable tuition, while preparing our students for long-term professional and academic success.
In addition to our academic programs, we believe that partnering with businesses to respond to workforce needs ensures mutual success for our partners and our graduates. We are dedicated to providing a rigorous education, combined with critical thinking skills and the technical and technological acumen needed for students to thrive, no matter their field of study.
The contents of this Career Focus reflect that rigorous education. Our cover story focuses on HFC's partnership with DTE Energy and the new Power and Trades Pathways program for the industry as a whole. Another example is HFC's partnership with the senior living community Henry Ford Village. HFC Interior Design students redesigned an apartment home which was sold 15 minutes after hitting the market.
This issue also spotlights the $181,000 grant awarded to HFC to support the success of HFC humanities students who choose to transfer to the University of Michigan in Ann Arbor. This partnership provides unique student experiences, while streamlining the transfer process and ensuring HFC students are academically prepared to excel at U-M and beyond.
Another notable recent addition to HFC is the Anatomage Table, which allows students to perform dissections on a virtual cadaver. We round out this issue with stories on our web development and American Sign Language programs. Both programs are relatively new, and both are infused with the energy of excited students lining up to enroll. In fact, the ASL program plans to launch a new associate degree program in time for the fall 2018 semester.
One final note: I would like to welcome our new Vice President of Student Affairs, Dr. Daniel Herbst. Dr. Herbst comes to HFC with more than 30 years of experience in higher education. Although he hasn't been here long, he has proven to be an invaluable asset to HFC.
As always, I would like to express my sincere thanks to our faculty, staff, Board of Trustees, and community for your unwavering commitment and support. Our 80th  anniversary provides a unique opportunity to honor our rich past, affirm our mission and impact, and aspire to an even bigger and brighter future.
Sincerely,

John Satkowski, J.D.                                                                                                                                                                                                  Interim President
Henry Ford College