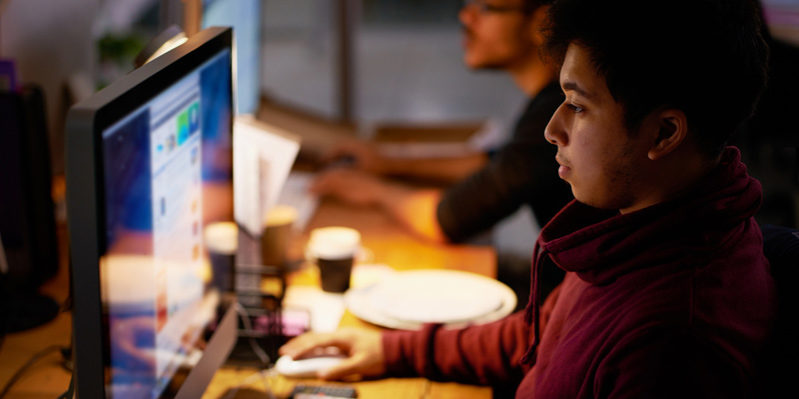 The HFC Computer Information Systems Department has launched a new Associate of Applied Science degree in web development. In its first year, the program has attracted more than 40 students.
The program prepares graduates for IT careers as web developers, programmers, full stack developers, JavaScript developers, web administrators, and web architects. Students in the program gain real-world, hands-on experience in client and server-side coding and development languages such as HTML, CSS, JavaScript, C#, and PHP, as well as content management systems, web frameworks, database integration, software development methodologies, and project management principles. Top developers also need communication, critical thinking, and problem-solving skills, which students will learn through the program.
"Web development is continuously evolving, making it an exciting career choice. We are happy to be able to have our students leave with the knowledge and skills necessary to embark on an amazing and fulfilling career," said Kim Moscardelli, CIS faculty and co-creator of the program.
A 20:1 gap of IT job openings to IT graduates was recently reported in the Southeast Michigan region, and web development and IT careers consistently rank among the highest in-demand, paid, and satisfying careers in the region and nation.
"We are very excited to offer this new degree to students who have an interest and passion in web development and IT. It is an ever-changing field with tremendous opportunities for graduates," said Dr. David Maier, HFC faculty in the CIS and Cisco departments.
Kurt Anthony Krug
If you are interested in the HFC web development program or any other IT education path such as software engineering, network administration, or cybersecurity, contact Maier at 313-845-9890 or djmaier@hfcc.edu.