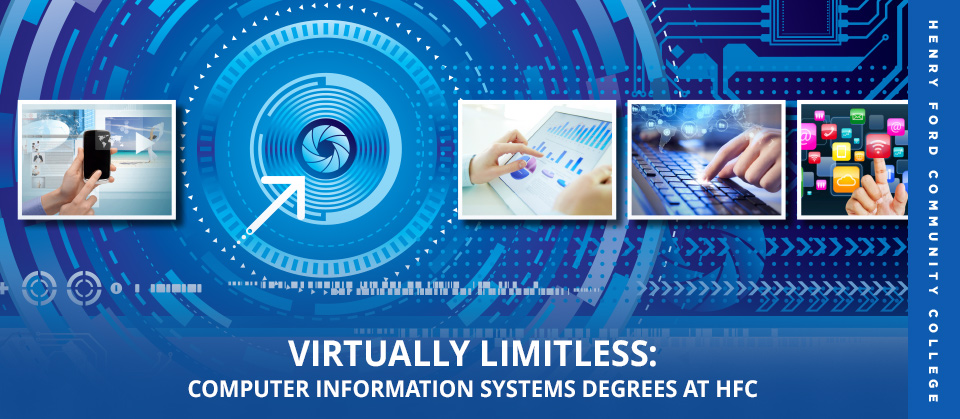 Computer technology is advancing at a dizzying pace, in ways that most of us couldn't have predicted even ten years ago. Today, the Internet plays an integral role in everything from how we use our phones, to how we shop or do schoolwork.
Who would have imagined that we'd have over 1 million phone apps to choose from, or that Facebook would swell to more than 1 billion users? With so many people connected to the Internet every day, employers and companies are changing the way they do business.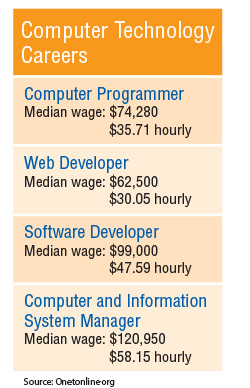 Opportunities are virtually limitless if you have skills in web development, programming, and related computer knowledge. Henry Ford College offers degrees in Computer Information Systems that will put you at the cutting edge of this high-paying and expanding field.
CIS Programming
A degree in CIS Programming prepares you for the ever-evolving field of computer programming, with applications across the business and professional world. HFC offers courses in web design, database management, and numerous programming languages.
In the era of "Big Data," programmers who can code intelligent databases are in high demand. One recent technology industry report showed job growth in "data engineering" programming has exploded by more than 6,500 percent since 2012!
"Healthcare, corporations, government agencies, etc., all are collecting massive amounts of information," notes John Challenger, CEO of outplacement firm Challenger, Gray & Christmas. "The demand will be for people who can organize, manage and make sense of all this data."
CIS Web Development
HFC offers certificate of achievement in Web Development that equips graduates with knowledge of the latest design software and technology. Students learn how to create websites, code, and manage databases.
According to job advice site CareerBliss.com, industry demand has centered around web development focusing on "user experience" (or UX) design. This field involves planning out how websites are navigated based on the best experience for users.
Demand for mobile developers is likewise on the rise, as more of the population uses cell phones for purposes once the domain of desktop and laptop computers. The most recent findings of the Pew Research Center's Internet & American Life Project reveals that people are going online and checking their email via their phones at twice the rate they were doing only four years ago.
Given the wide range of smart phones on the market, developers who can improve compatibility and create responsive web design will be in high demand.
Naomi Sheehan