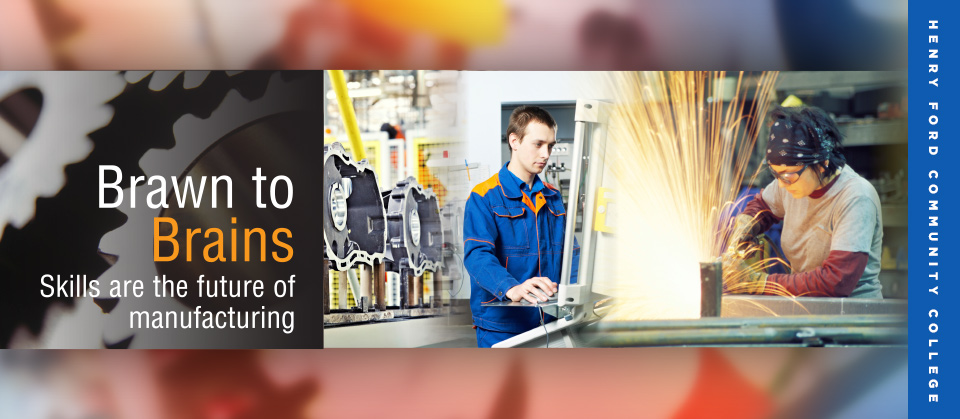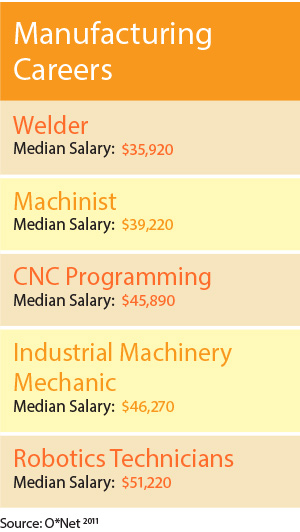 You may have heard that manufacturing jobs are a thing of the past. While it's true that old-fashioned assembly line jobs are dwindling, a new kind of manufacturing job is starved for skilled workers.
Today, over 60 percent of manufacturing employees have at least some college education, according to a U.S Department of Commerce report. And a 2011 report from the Manufacturing Institute estimates that 600,000 skilled manufacturing jobs are currently unfilled because employers can't find qualified workers.
As a result jobs such as skilled machinists, equipment operators, welders and technicians go begging.
Mitchell Sepaugh who teaches in the industrial automation program at Cleveland Community College in Shelby, North Carolina says that automation is what is driving modern manufacturing. "We live in a push button world, but automation is what makes pushing the button work," he says. "There will always be a need for workers who can program, manage and repair devices."
Technicians 
Some of the modern manufacturing jobs in demand are technical, such as CNC programmers, robotics technicians and industrial machinery mechanics. These workers are the brains behind the machines.
At Applied Manufacturing Technologies in Orion, Michigan, a company that designs and programs automated equipment for manufacturers, 10 new employees with skills in computer-controlled manufacturing were hired just this year. "And we would have hired 10 more if we could have found them," says Diane Haig, the company's chef knowledge officer.
These jobs typically require an associate's degree that provides a foundation of computer or mechanical skills.
Trades
Others jobs in demand, such as machinists and welders, required skilled workers who can perform intricate, custom work.
In Saginaw, Michigan, Merrill Technologies manufactures parts for the solar, wind, gas and oil drilling and defense industries. They routinely have openings for up to 20 CNC machinists that they wish they could fill.
"We have had to turn work away in the past," says co-owner Jeff Yackel. "We have machines sitting idle because we don't have operators."
Welders and machinist usually earn a certificate or associate's degree to acquire the skills they need. Welders must learn a range of techniques for welding a variety of metals. And machinists learn to create and use CAD blueprints and operate lathes and milling machines to produce prototypes.
Important basics
Even entry-level jobs in advanced manufacturing are difficult to fill. In Mooresville, North Carolina, NGK Ceramics USA, a supplier of emission control equipment for auto and diesel manufacturers anticipates hiring more than 80 employees for entry-level jobs, said J. Todd Alexander director of administration.
Basics such as mechanical aptitude, problem solving skills and good communication are among the qualities they're seeking in candidates.
As a result, community colleges around the country such as Mitchell Community College in Statesville, North Carolina are partnering with local industries to offer short-term training to prepare students for these jobs.
Laura Lyjak Crawford 
HFCC and the Michigan Advanced Technician
Training (MAT2) Program
HFCC is one of two community colleges in Michigan equipped with the state-of-the-art equipment and facilities for mechatronics training through the Michigan Advanced Technician Training (MAT2) program.
The MAT2 program provides the following:
A three-year training program with all costs paid by an employer;
An associate's degree in a high-tech, in-demand field;
On-the-job training with pay; and
Guaranteed employment upon successful completion (the student must commit to remaining on the job for a minimum of two years after the training period ends).
Mechatronics is a cutting-edge field that combines mechanical engineering, electronics, computer technology and information technology. Mechatronics technicians provide support to mechanical engineers, modify machines, make minor changes and provide maintenance for related equipment in advanced manufacturing companies.
"This is a great opportunity for students to earn an associate's degree, a certificate, critical work experience and zero debt," said Amy Cell, senior vice president of Talent Enhancement for the Michigan Economic Development Corporation (MEDC) in Lansing.
MAT2 combines state-of-the-art training facilities with actual work sites to give students a skills-based education. Students alternate between the classroom and learning lab, gaining marketable skills and valuable knowledge.
"MAT2 fits well with ongoing efforts here at HFCC to fill the needs employers currently have for skilled technicians, who have been in high demand in the country for the past 10-20 years. This program is essential to satisfy those needs," said Dr. Tracy Pierner, HFCC vice president of Academic Affairs for Career and Technical Programs.
Jim Anderson, an HFCC industrial automation instructor, agreed with Pierner.
"It's really a unique program, thanks to HFCC's affiliation with local industry. What you get out of the MAT2 program, it makes you much more employable and much more desirable as an employee in industry," said Anderson.
For further information about MAT2, call (888) 522-0103 or email [email protected].