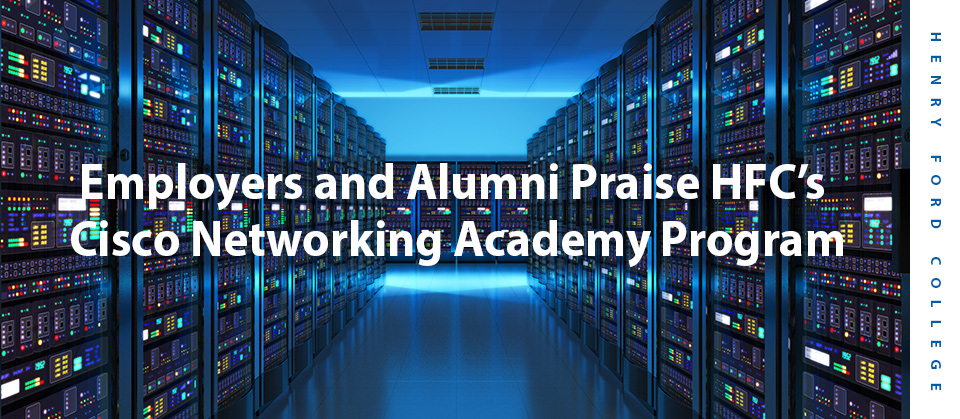 Employers and alumni alike have praised HFC's Cisco Networking Academy Program, which provides students with the skills for designing, building and managing computer networks.
In partnership with California-based Cisco Systems, HFC is designated as a Cisco Networking Academy. It offers programs for Cisco Certified Entry Networking Technician (CCENT), Cisco Certified Network Associate (CCNA) and Cisco Certified Network Professional (CCNA-Security and CCNP) certifications. Cisco certifications are consistently rated among the most highly valued certifications within the IT industry.
Cisco training can lead to many well-paying positions. Considerable growth and demand for these positions have been predicted by the Information Technology Association of America, the American Electronics Association and the U.S. Bureau of Labor Statistics. According to HFC Cisco Instructor Todd Browning, students who complete the program begin entry level jobs making about $40,000 per year.
Ali Yassine, a 2009 HFC Cisco alumnus, is a lead network engineer at KLA Laboratories, Inc. in Dearborn. He has three of the aforementioned certifications. Yassine stated KLA currently employs about 30 HFC Cisco alumni, several of whom he supervises and mentors.
"I consider myself extremely fortunate to have attended such a top notch program all within a few minutes of my home and pride myself to be counted among its alumni. The Cisco Academy was the conduit I needed to begin a life-changing career that has allowed me to travel the world and broaden my skills. I truly believe the team of instructors at HFC who supported my efforts have been instrumental in my continued pursuit of all things Cisco and networking," said Yassine.
KLA President/CEO Matthew O'Bryan, also an HFC alumnus, started the KLA Laboratories, Inc. Technology Scholarship Award in 2015.
"The preparation of the HFC Cisco Academy alumni has given KLA the opportunity to easily elevate them to technical engineers at a world-class level. This qualified talent has been essential to our growth and success in providing unmatched service to our customers," said O'Bryan.
The HFC Cisco Networking Academy also has a partnership with Secure-24, Inc. in Southfield. Secure-24 also employs approximately 40 HFC Cisco alumni, many of whom have come to work directly for Secure-24 after completing the program.
"It's really a tremendous, collaborative relationship. (Browning) has supplemented our needs for securing top talent. They're all outstanding," said Paul Bhatti, senior vice president of IT Operations at Secure-24.
Sarah Wojcik, a 2011 HFC Cisco alumna, is Secure-24's manager of Network Operations.
"If it wasn't for the HFC Cisco Networking Academy, I wouldn't have had such a good career so early in my life. It gave me the stepping stone from a job to a career. I would rate the program very highly as it provides well-rounded base knowledge for a student to build on to become the success they want to be. I also manage two alumni from the Academy at HFC; these network engineers are a huge addition to Secure-24 and I'm very grateful they are part of our team," she said.
For questions or further information about HFC's Cisco Networking Academy Program, visit https://cisco.hfcc.edu/. You may also contact Browning at 313-845-6365 or [email protected].
– Kurt Anthony Krug