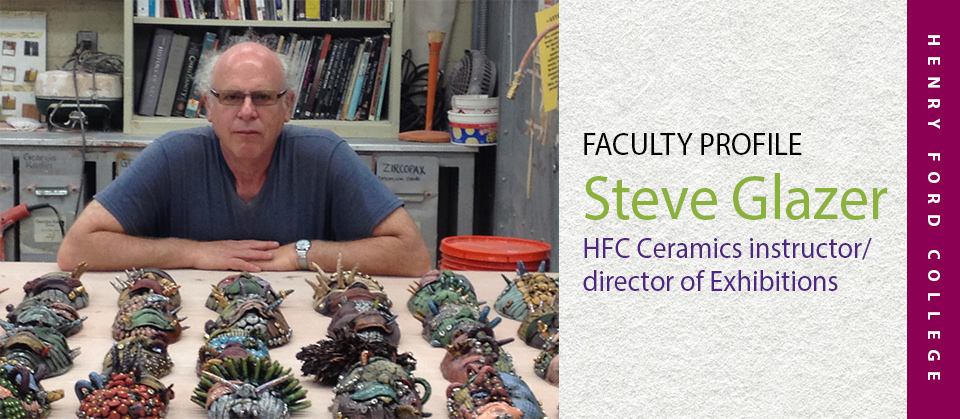 A Detroit native, HFC Ceramics Instructor Steve Glazer grew up in an artistic household; both his parents were professional musicians as are his two brothers. During his senior year at Milford High School, Glazer's love for ceramics came about when he saw an art teacher working on a potter's wheel.
"I walked into the classroom and saw Ms. Cattallo, a new student-teacher, working at a potter's wheel and was dumbstruck. My reaction was not 'I want to learn how to do this,' but 'I need to learn how to do this.' And that changed my life forever," he said.
Glazer earned his undergraduate degree in Art with a concentration in Ceramics and his K-12 teaching certificate from Eastern Michigan University (EMU) in Ypsilanti in 1976. He earned his graduate degree in Fine Arts and Ceramics from Central Michigan University (CMU) in Mt. Pleasant in 1977. He earned another graduate degree – a master of fine arts in Ceramics – from Indiana State University (ISU) in Terre Haute, Ind., in 1982. Glazer is affiliated with the National Council on Education in the Ceramic Arts (NCECA) and Foundations in Art: Theory and Education (FATE).
Glazer's career as an art teacher spans more than 38 years in K-12 and college systems. He came to HFC in 2004. At HFC, he has taught ceramics, 2-D design, 3-D design and the history of modern art. Additionally, he serves as director of Exhibitions at HFC's Sisson Gallery, as well as advisor to the HFC Ceramics Club.