A creative career can thrive with a little planning
It requires talent to make a career out of art-but even more than that it requires courage. Courage to follow your convictions, ignore your doubts and smile politely when the well-meaning person asks, "Shouldn't you choose a more practical career?"
Yet despite the skepticism, many artists do turn their talents into careers. The U.S. Bureau of Labor Statistic indicates that fine artists, including painters, sculptors, and illustrators, made a perfectly reasonable median salary of $43,470 in 2010.
Art begins with inspiration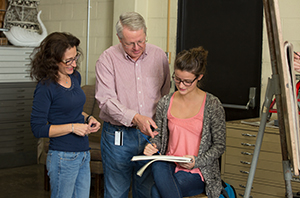 On her blog, artist Gwen Seemel explains her career choice:  "I can't help but think that, in art as in life, if you're not enjoying yourself – not delighting in really experiencing touch, taste, smell, sound, and sight – you're getting it wrong. I'm an artist because being an artist is the practice of searching for beauty where others might overlook it and showing that beauty to the world," she said.
Art education hones skills
While some successful artists are self-taught, many study art in college, learning the techniques and principles of their media, whether it's painting, sculpture, ceramics, photography or something else. While many colleges and universities offer undergraduate degrees in art, serious artists should consider the more intensive training of a bachelor of fine arts (BFA). For artists who plan to combine college teaching with an art career, a master of fine arts (MFA) is usually required.
Thriving artists hone business skills
Most successful artists discover that they have to become business people as well artists to earn a living. In an online survey of almost 1,000 artists conducted by Right Brain Rockstar and Artonomy, nearly 65 percent of the working artists who responded consider marketing and promoting their art to be their biggest challenge.
Artist Aletta de Wal, author of "My Real Job is Being an Artist," encourages artists to reject the myth of the "starving artist." On the blog emptyeasel.com, she explains, "Many artists claim that handling business interferes with their art. But when you don't have enough money for food and rent, it's hard to keep the creative juices flowing, isn't it? The truth is, financial stability typically reduces anxiety, and makes it easier to produce masterly work. Having enough regular income to pay for both living costs and studio expenses is indispensable to artistic success."
Laura Lyjak Crawford
HFC Ceramics Program
Students learn how to create – and market – their artwork
The HFC associate degree in Ceramics program offers a wide selection of courses for the first-time potter and for those interested in becoming a professional studio potter. Students learn hand-building and wheel-construction methods, then advance to specialized studies. Students explore the design and production techniques and aesthetics necessary to be a successful, self-employed studio potter.
"It's unusual for a community college to have an actual associate degree in Ceramics that's geared toward teaching someone the skills needed to create saleable work. While that's not an emphasis of all students by any means, there are a number who use the program as a stepping stone to create their own pottery business. That is the focus of the Pottery Boutique. It's a teaching tool for students to learn everything needed to set up their work, sell their work and present their work to the public. All three are different things but they're all connected," said Ceramics Instructor Steve Glazer.
Each fall, HFC hosts the Fall Pottery Boutique, an event conceived during a community art fair four years ago. A conversation developed between students and faculty regarding how professional artists create, market and remain current in a competitive medium like ceramics. Everyone concluded that the best way to learn about the business of surviving as a potter was to show and sell their work alongside respected professionals. The first boutique took place in 2011.
This event showcases HFC's Ceramics Program. It's set up so that a small portion of each artist's sales goes toward the support of the HFC Ceramics Club to fund future shows and other endeavors. Artists include HFC faculty, students, and local artists.  All work must be of a certain level of sophistication, which challenges students to create work worthy to compete with experienced well-known artists.
Since its inception, the boutique has grown each year in sales and attendance. It has provided students with a real-life experience that they can fulfill their dreams as an artist, and it has shined a spotlight on HFC's outstanding ceramic program. The fourth annual boutique is slated for November 2015. Visit www.hfcc.edu/potteryboutique.
Kurt Anthony Krug
HFC—home of largest music ensembles among Michigan-based community colleges
HFC's music program is home to the largest music performance ensembles of all two-year colleges in Michigan.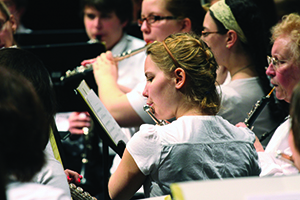 For more than 30 years, HFC music ensembles have entertained and delighted audiences in more than 1,200 concerts, conferences, jazz festivals and performances worldwide. The award-winning Big Band includes talented young professional musicians, music educators and traditional-aged music students – all of whom are enrolled at HFC to continue their performance opportunities.
The Big Band has performed on major stages and prestigious venues throughout North America, Europe and the Caribbean, including Orchestra Hall in Detroit, Carnegie Hall in New York City, four U.S. Presidential Inaugurations (George W. Bush and Barack Obama) in Washington, D.C., Montreux Jazz Festival in Switzerland, Luxembourg Gardens in Paris, Edinburgh Jazz Festival in Scotland, Ford Detroit and Detroit International Jazz Festivals, the Virgin Islands, among many others.
The Big Band has shared the stage with jazz music greats including Maynard Ferguson, the Canadian jazz trumpet player and bandleader, and the legendary Count Basie Orchestra. In addition to receiving local, state and international recognition and awards, Big Band music and performances have been broadcast on Detroit PBS Television and BBC Radio. In fact, Big Bang member James Bostek played on "Conan," the late-night talk show hosted by comedian Conan O'Brien.
Musicians in HFC ensembles represent a cross section of the HFC student body. Music courses are designed for music majors and liberal arts and technical students, as well as members of the community. In the latter case, community members are enrolled in HFC's Continuing Education program in order to continue playing with the Big Band, according to Rick L. Goward, founder of the Big Band, the Metropolitan Symphony Band, the Symphonic Wind Ensemble and Studio 110 Jazz Orchestra.
HFC's many bands, choirs, jazz bands, and vocal ensembles are open to all by audition. Students pursuing an associate degree in Music fulfill requirements in music literature and theory, sight singing/ear training, music history. They also participate in one or more musical ensemble, including several concert bands, a jazz band, choirs and other vocal groups.
"HFC is proud to carry on the legacy of Big Band music composers and introduce audiences of all ages and backgrounds to memorable, toe-tapping performances," said Goward. "Our music ensembles have showcased the best and brightest in our instrumental and vocal music programs at HFC. They are a talented group of musicians and it is always a pleasure to work with them," he added.
Kurt Anthony Krug