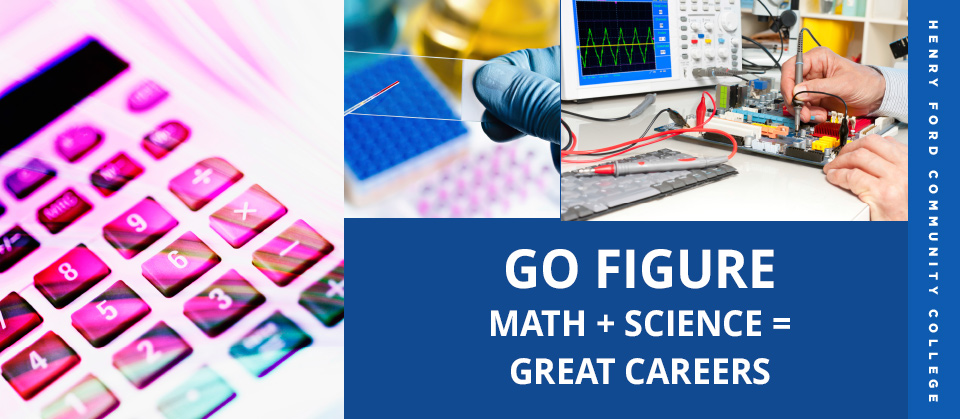 Looking for a job that is interesting and rewarding? How about something with strong growth that pays well and provides a secure life?  Maybe something in heathcare, engineering or IT? Well, we've got the jobs for you and they're all built on a solid foundation of math and science.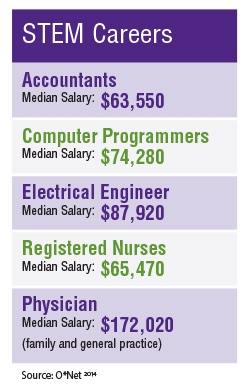 Advances in medicine and science improve our health and help us to understand the world around us. From balancing a household budget to preparing your taxes to following a recipe, math and science touch every part of our lives. Today, we rely on math and science in ways we could not imagine 30 years ago. Innovations in technology help us communicate across the globe with ease through satellites, the Internet and cell phones. Every day they also help us to work better and conduct our daily lives.
And yet fewer students are choosing to learn the basics of algebra or calculus, and fewer are digging into the mysteries of physics, biology and chemistry that explain the principles our modern world is built on. Why is this?
What is STEM?
STEM – Science, Technology, Engineering and Math – is an initiative for securing America's leadership in science technology, engineering and mathematics fields and identifying promising strategies for strengthening the educational pipeline that leads to STEM careers.  A solid foundation in math and science teaches students the problem-solving and analytical skills that are so valuable to success in any career. And, these are critical skills that students will use daily in their adult lives, whether they're assessing the terms of a home loan, making healthcare decisions or negotiating the terms of a car lease. Math teaches students how to solve problems creatively and develop critical-thinking skills. Science is all about studying, finding out, and making sense of the "hows," "whats" and "whys" of the world we live in.
STEM Grows Jobs and Salaries
The fact is a strong background in math and science also opens doors to higher-paying jobs and greater opportunities over a lifetime. Jobs requiring STEM skills are growing five times faster than others and are expected to cover 65 percent of the job market. According to a 2012 congressional report, people who work in STEM fields earn 26% more than those who work in non-STEM fields – and the so-called "STEM premium" is getting larger every year. (Joint Economic Committee Report, April 2012) The Raleigh metropolitan area ranks fifth in the growth of STEM jobs over the past decade. (Forbes, January, 2013)
Women in STEM
According to the White House, supporting women in STEM is an essential part of America's strategy to out-innovate the rest of the world. Women in STEM jobs earn 33% more than women in non-STEM occupations and are engaged in some of the most exciting realms of discovery and technological innovation (www.whitehouse.gov). In addition, the gap in salaries between men and women is smaller in the STEM fields.
Tom Caylor and Jill Martin