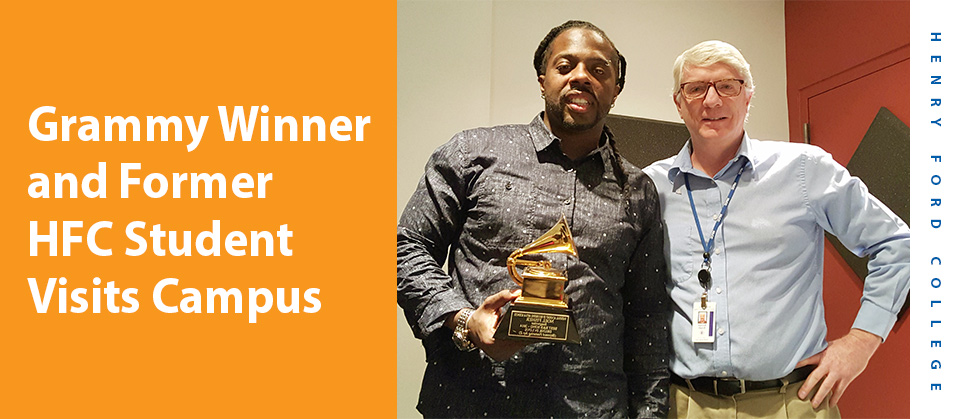 In late November 2015, HFC welcomed back to its campus Grammy-winning recording artist/music producer Noel Fisher, known professionally in the music industry as Detail.
During his visit, Detail spoke with students and also received a recording from HFC students and alumni for his rendition of the classic holiday song "The First Noel" for his Christmas CD "Detail Presents Noel." While on campus, Detail also spoke to students about what it takes to make it in the music business.
A Detroit native, Detail is no stranger to HFC. He attended from 1998-2002 and took music and telecommunication courses. When he needed a classical version of "The First Noel," his first thought was the HFC Music Dept.
Detail has been active in the music scene since late 2005. He gained recognition as a producer when collaborating with R&B singer Ray J to produce the majority of Ray J's third album "Raydiation." He has also worked with other renowned musical artists, most notably Beyoncé, Ashanti, Jennifer Lopez, R. Kelly, Lady Gaga, Brandy, Christina Aguilera, Lil Wayne, the Pussycat Dolls and Snoop Dogg.
Detail produced/co-wrote the single "Drunk in Love," which earned him his first Grammy Award at the 57th Annual Grammy Awards in 2015. Beyoncé and her husband, Rapper Jay-Z, performed this song at the Grammys, where it won best R&B song. It was also featured on Beyoncé's 2013 album called "Beyoncé."
"It was great seeing Noel again. When he was a student, he understood that to make it in the music business you have to really want it. That's the same message he delivered to our students," said Knight.
– Kurt Anthony Krug