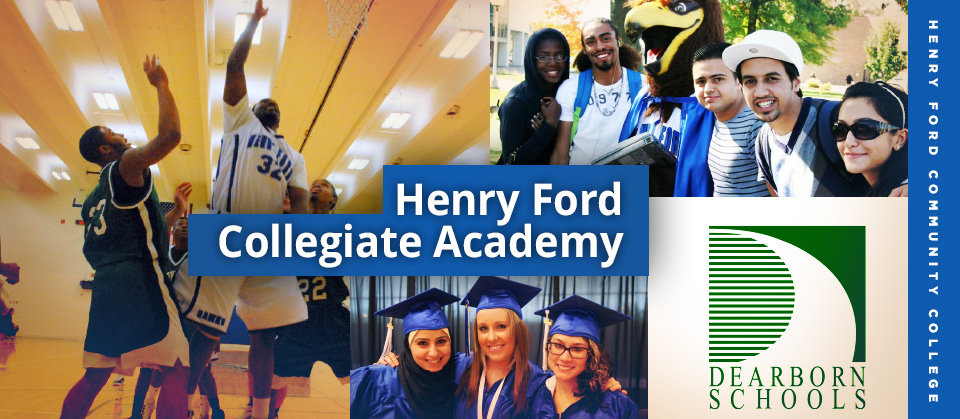 The Henry Ford Collegiate Academy is one of the most exciting opportunities that the Dearborn Public Schools and Henry Ford Community College have ever offered students!
This program provides students a chance to earn BOTH a HIGH SCHOOL DIPLOMA and a two-year associate's degree in only five years at NO COST to parents or students.
The best part of the program is that it doesn't matter if your child attends Dearborn, Edsel Ford, or Fordson High School, the program is available at all three.  Students enter the program at the start of their junior year based on the scores they have achieved on the PLAN test taken in the spring of their tenth grade year. Music, athletics, theater, clubs, commencement ceremonies, honors night, prom, homecoming, and all of the other activities that complete the high school experience are still a part of your child's experience when they enroll in the Henry Ford Collegiate Academy. Plus, students have access to all of the programs and offerings of a true college experience at Henry Ford Community College.
Henry Ford Early College and
Collegiate Academy Give You A Leg Up!
Attention high school students: Looking to get a leg up on your college degree? Eligible high school students can take classes at HFCC through dual enrollment programs. Many students graduate from the local high schools in Dearborn with their freshman and sophomore years of college already completed by participating in dual enrollment programs that include the Henry Ford Early College (HFEC) and the Collegiate Academy.
HFEC is a partnership between HFCC, the Dearborn Public Schools (DPS) and Henry Ford Health System (HFHS) that recently earned a ranking in the 99th percentile of the Top-to-Bottom rankings of Michigan schools. As a result, HFEC is among the top four schools in Wayne County and the only school in that group.
HFEC prepares students for employment in health careers. This is a five-year program that begins freshman year. The successful HFEC student will earn a high school diploma and either a health career college certificate through an associate's degree in a health-related field or up to two years of transferable college credits. HFEC focuses on a small school learning setting, real-world learning experiences, and service learning in an academically challenging environment. Go to
http://www.henryford.com/body.cfm?id=50627.
The Collegiate Academy – a partnership between HFCC and the Dearborn Public Schools – earned recognition by the Dearborn Chamber of Commerce as the 2013 "Innovator of the Year."  The Collegiate Academy begins in junior year and provides students with the opportunity to earn a high school diploma as well as an associate's degree in liberal arts or science. In their junior year, students will begin taking courses at HFCC. Then, in the following two years, students will take the majority of their courses at HFCC, working toward their degree. Many students go on to complete their undergraduate degrees at four-year colleges and universities. Go to http://dearbornschools.org/programs/collegiate-academy.
Kurt Anthony Krug