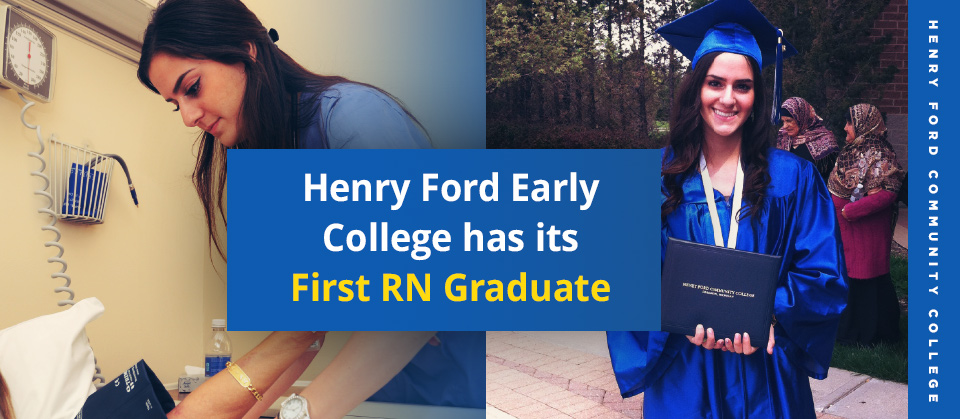 It wasn't the typical high school experience for Sarah Kazbour of Dearborn. She was determined to reach her goal – a goal that was almost unthought-of for a student her age.
Registered Nurse—At 19!
Kazbour became a registered nurse at age 19. She was a member of the first graduating class of the Henry Ford Early College program in May 2012. She is the first RN student to graduate from the program since its launch in 2007.
"It has been an amazing experience and it's something that almost no one else my age has had," Kazbour said, adding "I wouldn't give up this opportunity for anything."
"It has been an amazing experience."
A Career Decision
When Kazbour began her studies at HFEC, the array of programs, including physical therapist assistant, radiography, respiratory therapy, surgical tech and pharmacy tech, made her options seem endless. HFEC continued to grow and add additional program options, but no specific program caught her eye. Then one day, while shadowing a respiratory therapist, she passed through Henry Ford Hospital's Intensive Care Unit (ICU) and saw the hard work and diligence of one of the ICU nurses. It was then that Kazbour found her passion.
"At that moment, I knew that is what I wanted to do," she said. "I wanted to be a nurse."
The HFEC program was still in its first year of operation at the time, and did not have a nursing program available for the first class of students. Determined, Kazbour met regularly with the Early College counselors and HFCC advisors to map out a potential program for her to earn a nursing degree.
Upon graduation in May, Kazbour was offered a position as an RN at Henry Ford Wyandotte Hospital. She started July 29, and said it is going well.
"I've never really had the opportunity to thank the Early College program. It has truly changed my life," she said.
Erica Zazo wrote this article during her Public Relations internship in 2013 at Henry Ford Health System. She is a senior in Journalism at Michigan State University.