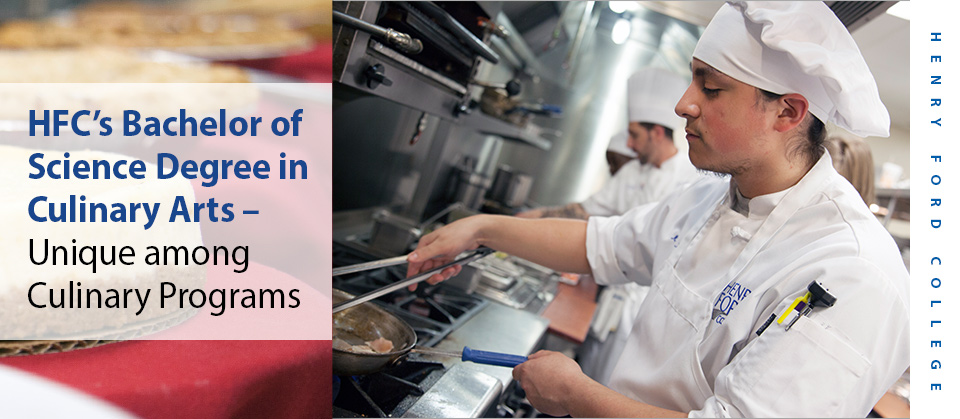 This year, HFC launched its first four-year degree program – a Bachelor of Science Degree – in its award-winning Culinary Arts program. So far, 60 students are enrolled in this program.
"The industry is changing. For more job requirements, you are being requested to have a bachelor's degree, especially in managerial positions. For us, it's a great opportunity. It's serving a niche in the community that is needed. And with our food market developing in the city of Detroit, everyone is looking for qualified help," said HFC Culinary Instructor Kris Jablonski.
HFC's Bachelor of Science Degree in Culinary Arts is different than other hospitality management degree programs at most four-year educational institutions due to the large amount of hands-on lab classes available instead of a traditional classroom setting. Students will study and practice cooking and baking; study and practice service; and study and practice supervision and operations management. Students will also complete two internships during the four-year program.
"The four-year curriculum also emphasizes the arts and sciences to prepare students for a career in any segment of the hospitality industry," said Eric Gackenbach, HFC academic coordinator, Culinary Arts & Hotel/Restaurant Management.
HFC maintains open enrollment to anyone with a high school diploma or equivalent. After earning acceptance to HFC, students can enroll in the associate degree program in Culinary Arts and the associate degree program in Hotel/Restaurant Management as their program of study. After approximately two semesters and completion of the Culinary Skills Certificate (or a transfer equivalent), students can request admission to the Bachelor of Science in Culinary Arts degree program.
For information, contact Gackenbach at 313-317-1572 or [email protected]. You may also visit www.henryfordculinary.com.
– Kurt Anthony Krug