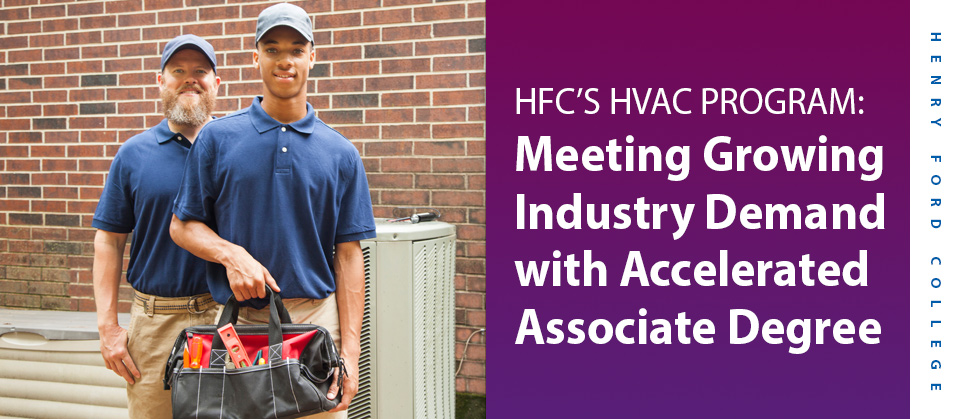 Since demand for heating/cooling professionals in Michigan and the United States is at an all-time high, the Henry Ford College (HFC) Heating Ventilation Air-Conditioning (HVAC) program can now be completed as an advanced certificate (requiring 52 credit hours) or an associate degree in Applied Science (requiring 68 credit hours), effective fall 2016.
In fact, to complete the associate degree, the HVAC program now requires 16 credit hours of academic classes (reduced from 23). This change, which goes into effect this fall, was made with the blessing of the Higher Learning Commission (HLC). Since there was a reduction in required academic classes, more HVAC classes have been added. Students who enroll in HFC's HVAC program full-time will graduate in two years with an associate degree and HVAC certification.
Greg Laskowsky, HVAC program coordinator, explained that the advantage HFC has over other non-college technical schools or non-accredited colleges/universities is that the HFC HVAC program is very hands-on. HFC has operating equipment in four labs. The lab portion teaches the practical and technical, hands-on aspects of being an HVAC technician.
"By the end of their first semester, students have to troubleshoot a furnace. They have to break down the furnace into its various components, identify the problem(s), then make it operational once again. Non-accredited schools often do not offer this hands-on experience in its curriculum. This is what makes HFC's HVAC program stand out. Many of our students obtain jobs before they complete their program, then complete the remainder of it in the evening after the workday is done," said Laskowsky.
Accredited HVAC technicians with an associate degree start out making approximately $12-14/hour. Within four to five years, they can make approximately $30-40/hour.
Students can also earn even more with a Bachelor Degree in Energy Technology/Applied Science through Siena Heights University (SHU). In fact, they can take classes at SHU through the University Center that HFC established with SHU on the HFC campus.
"The more college-certified one becomes, the higher one's pay will be. One of our former students, now an HVAC instructor, has four associate degrees from HFC and has had very secure employment in the HVAC industry for years," said Laskowsky.
For further information about HFC's HVAC program, contact Laskowsky at 313-317-1550, via email at glaskowsky@hfcc.edu or visit https://www.hfcc.edu/catalog/programs/2616.
– Kurt Anthony Krug
The National Bureau for Labor Statistics Job Outlook predicts the HVAC field – a growing field – will grow upwards of 25 percent over the next 10 years with nearly 138,000 new openings. According to Outlook, approximately 2/3 of HVAC professionals by 2020 will be those who were not in the industry in 2010.
Currently, there are more jobs in the HVAC field than there are people to fill them. The median pay is $43,640 per year in the HVAC field. In fact, technical-oriented associate degree-holders have first-year median earnings higher than their four-year peers, per a recent wage data report by College Measures called "Higher Education Pays."
Source: CollegesMeasures.org