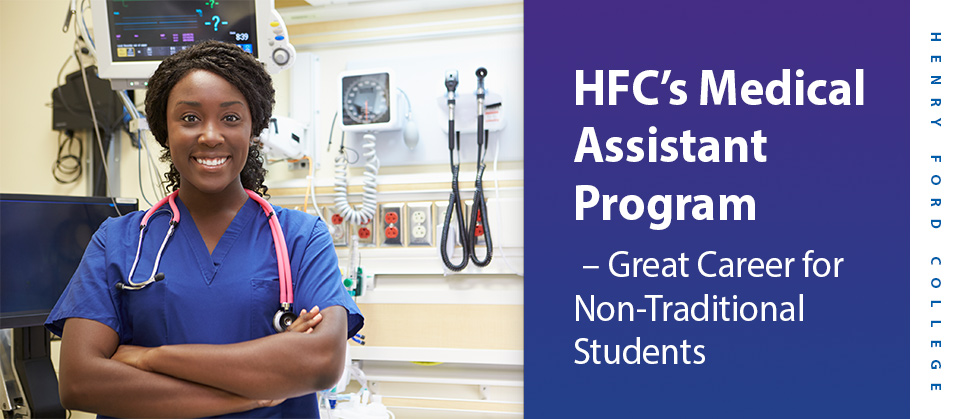 HFC's Medical Assistant (MA) program offers a gateway into the medical field for non-traditional students.
And students don't get any more non-traditional than Dawn Jones. She dropped out of high school in 2009 and earned her GED in 2011. That same year, she enrolled at HFC. Currently, she has an externship with an ear, nose and throat specialist in Dearborn.
"Getting an education was the only way to get a better job. I want my family to be educated. I'm the first in my family to go to college," said Jones, of Inkster.
Students can complete the MA program as a certificate of achievement (requiring 36 credit hours) or as an associate in applied science degree (requiring 67 credit hours). There's also the option of completing both.
The MA program prepares professional multi-skilled individuals for employment in physicians' offices, medical clinics and other facilities – both medical and administrative – in the health care field. It emphasizes administrative and clinical skills in the classroom and the laboratory under directed practical experience in various medical facilities. Externships are arranged by program faculty utilizing many clinical agencies throughout the Metro-Detroit area.
"My MAs have instant employment. They have jobs before they even graduate because demand is so high in this field. MAs are a hot commodity in the health care industry," said Elizabeth Hoffman, director of HFC's MA program.
According to the U.S. Bureau of Labor Statistics, employment of MAs is expected to grow much faster than most other occupations through 2030 as the health care industry expands due to technological and scientific advances in medicine and a growing age population.
"You have to be versatile as an MA. Employment growth will be determined by the increase in the number of group practices and other health care facilities that need a high proportion of support personnel, particularly an MA who can handle both administrative and clinical duties," said Hoffman.
For further information about the MA program, contact Hoffman at 313-845-6466, via email at ehoffman1@hfcc.edu or visit https://www.hfcc.edu/catalog/programs/2651.
– Kurt Anthony Krug
The Many Possibilities of Medical Assistants
In today's rapidly evolving health care environment, medical assistants (MAs) are in demand and playing more of an integral role in helping medical offices in all fields operate efficiently.
MAs not only take vital signs, help physicians with specialty examinations and perform laboratory tests, they also schedule appointments and perform financial and operations management tasks. Ready for employment after program completion, MAs are prepared to take the sought-after American Association of Medical Assistants (AAMA) certification examination that will make them more competitive in the job market. Their training also readies them for dozens of opportunities in the future.
– Nikki Sarpolis
Medical Assistant Student Diana Hindley
Another example of a non-traditional student in the MA program is Diana Hindley, of South Lyon. After having surgery in 2013, she enrolled in HFC's MA program in 2014. This is her second career. Previously, the 1992 Edsel Ford High School alumna worked at the Ritz-Carlton in Dearborn for 10 years.
"I wanted to be in the health care industry in some capacity after being inspired by the amazing care I received from the MAs, the nurses and the doctors after my surgery. It was a very positive experience, a very life-changing experience. It's a cool thing for my family to see me going back to school," said Hindley.