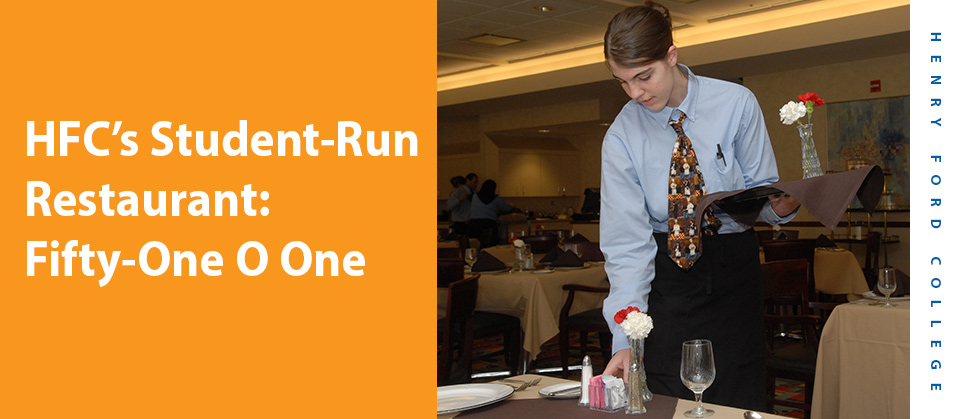 The Fifty-One O One restaurant is a full-service dining establishment operated by the students and staff of the HFC Culinary Arts program, offering customers gourmet dining experiences at affordable prices.
Fifty-One O One employees are students learning to be future hotel/restaurant managers, chefs and other hospitality industry professionals. Students are assigned and rotated through the various stations in the kitchen and dining room to obtain practical experience in the hospitality field.  All the menu items – soups and sandwiches, entrees, daily specials, desserts and baked goods – are prepared in-house.
The restaurant is open for lunch and dinner for 11 weeks during the months of September to December and January to April on Tuesday, Wednesday and Thursday. It is also open for five weeks during the months of May and June. Additionally, it offers special buffet lunches throughout the fall and winter semesters. Lunch hours are 11:30 a.m. to 1 p.m. Dinner hours are 6 to 7:45 p.m. on Wednesday and Thursday. The final day for the winter 2016 semester is Thursday, April 21.
Reservations are not required but are recommended. Visit https://5101.hfcc.edu for information. To make reservations at the restaurant or for further information, call 313-206-5101.