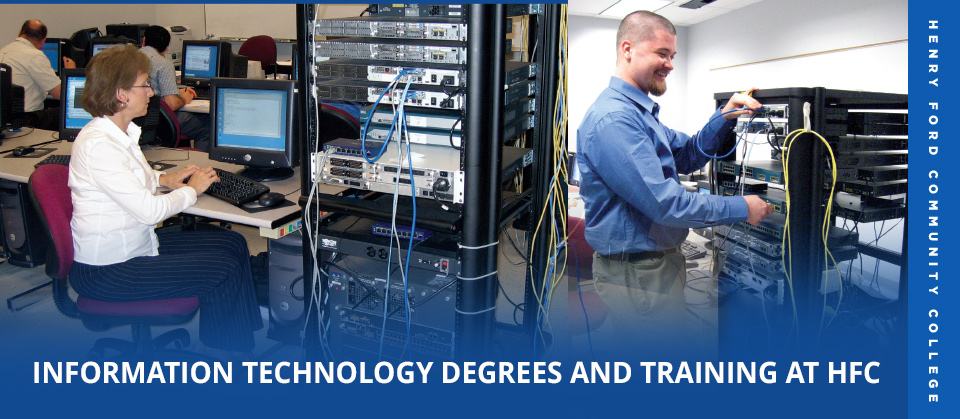 HFC's Computer Information Systems (CIS) and Cisco departments offer many courses, certifications, and associate's degrees to prepare students for careers in the Information Technology (IT) and computer fields. In addition, IT professionals at area companies and organizations frequently enroll in computer courses at HFC to keep current in their jobs.
The IT field is large and diverse, with many areas of specialization. One area of concentration at HFC is Cisco. Based in San Jose, CA, Cisco Systems has certified HFC as a Cisco Networking Academy. Through this innovative partnership, HFC and Cisco prepare students for the opportunities in the networking field. Students can prepare for the Cisco Certified Network Associate exam (CCNA) to become more marketable and more competitive.
"It's a true collaborative partnership between HFC, Cisco, and employers," said HFC Cisco Instructor Todd Browning.
Cisco training can lead to well-paying positions, including Network Support Specialists, Network Control Technicians, Hardware/Telecom Field Support Technicians, LAN/WAN Technicians, Network Systems Technicians. Considerable growth and demand for these positions have been predicted by the Information Technology Association of America, the American Electronics Association, and the U.S. Bureau of Labor Statistics. To learn more, visit https://cisco.hfcc.edu/.
In addition to the Cisco program, the CIS Department at HFC offers associate's degrees in Computer Information Systems, Network Administration, Information Assurance, and certificates in Web Development and Microsoft Application Development that prepare individuals for careers as software developers, programmers, database developers and administrators, network administrators, web developers, and IT security professionals. Popular courses in high demand areas include: Oracle database administration, mobile application development, Java, JavaScript, PHP, Windows Server administration, NAS and virtualization, and information assurance and security.
Kurt Krug