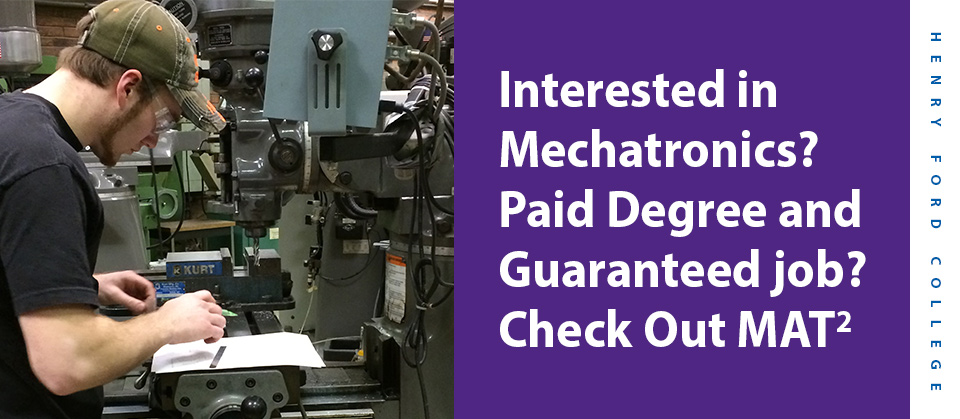 HFC and the Michigan Talent Investment Agency (TIA) have teamed up to provide a competitive opportunity for students to earn an associate degree in Mechatronics, Information Technology, Technical Product Design (TPD) or Computer Numerical Control (CNC) through the Michigan Advanced Technician Training (MAT2) program. MAT2 is accepting applications now until Wednesday, June 1.
If selected, the student's tuition is paid for by the employer. Students work for their employer, earning money while attending college. In addition, successful graduates are guaranteed employment upon graduation.
"The MAT2 program offers students an opportunity to combine college studies and on-the-job experience that lead to a skilled technical profession," said Gary Saganski, HFC associate dean of Industrial Technology.
The mechatronics program is a growing field and focuses on the electrical, mechanical and electronic skills used to identify, analyze and solve manufacturing problems. A mechatronics technician supports engineers by maintaining manufacturing machines and other related equipment, including repairing, testing and making minor modifications.
CNC Manufacturing Technicians set up, operate and produce high quality products on computer numerically controlled (CNC) machine tools. Program participants will be competent in blueprint reading, gauging and inspection, statistical process control, mathematics, safety and machine tooling.
Sponsoring companies help train the students and employ them during college and upon graduation. The students navigate the program as a tight-knit unit, attending college and working at the sponsoring companies in recurring eight-week intervals. Students interested in joining a 2016 cohort must meet certain academic qualifications for this competitive program. Companies will interview and select each student for sponsorship.
Each selected participant will receive income throughout the program. While attending classes, the student will receive a weekly stipend to assist with personal expenses. When working, the student will earn an hourly wage. As long as the student has met the program requirements, the hourly wage will increase annually at the sponsoring company.
Applicants must be high school graduates at the start of the program. ACT scores can be used to determine if an applicant has the required academic skills to be successful in the program. Once selected by an employer, students must take the entrance exam at the college selected by their employer.
MAT2 is a very competitive program and students should apply early. The application deadline is June 1. Applications undergo review and are accepted on an ongoing basis through the June 1 deadline. Apply for MAT2 through the Talent Investment Agency at mitalent.org/mat2.  Companies will begin the interview process in the spring.
For more MAT2 program information, visit mitalent.org/mat2 or contact the HFC MAT2 Program Coordinator Gary Zirulnik at 313-845-6351 or [email protected].
– Kurt Anthony Krug