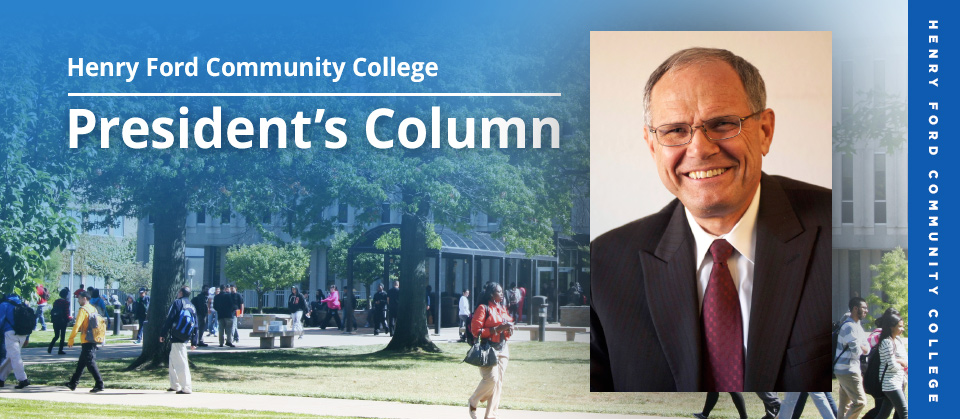 On behalf of Henry Ford Community College, I welcome you to the winter 2014 edition of CareerFocus Magazine.
I want to start this edition by expressing my sincerest thanks on behalf of HFCC for your unwavering support of this fine institution. The support of our friends throughout southeast Michigan helps HFCC in numerous ways. Did you know that a significant portion of our student population resides not only in Dearborn, but in the many diverse communities south of our district? In fact, thousands of students from the downriver population attend HFCC.  Students, workers-in-transition, and professionals from towns such as Allen Park, Wyandotte, Southgate, Grosse Ile and Trenton (to name just a few) honor HFCC by enrolling each term in classes, labs and training sessions geared toward high-paying fields and careers.  With the fall millage victory completed, HFCC is now working to bring new, state-of-the-art educational technology and career training resources to all students in the coming months. Our goal: to help you achieve career and life success.
With the start of a New Year, HFCC will move forward on developing educational opportunities geared toward careers in high-paying fields. In early 2014, HFCC will establish a new University Center.  Students will be able to complete their core classes at HFCC, and then seamlessly transfer to a four-year degree program at a college, or remain on campus and complete their degree at our university center. This option could potentially save students up to $40,000 on their four-year college education costs and helps put a college education within their reach. In addition, HFCC will develop a new Student Success Center, which will work to ensure that students are successful during their college careers.
We can't think of a better way to honor HFCC's 75th birthday than to help students achieve success. Soon, HFCC will have a chance to thank all of our supporters at various events around town—the Diamond Celebration May 10 and our annual Mike Adray Memorial Golf Tournament May 14 at Dearborn Country Club. Most importantly, I hope to see many of you at our 2014 Commencement Exercises May 10 as we celebrate our successful graduates.
On behalf of HFCC, thank you once again for your humbling support, and I wish you prosperity, health and happiness in 2014!
Sincerely,
Stan Jensen, Ph.D.
President
Henry Ford Community College