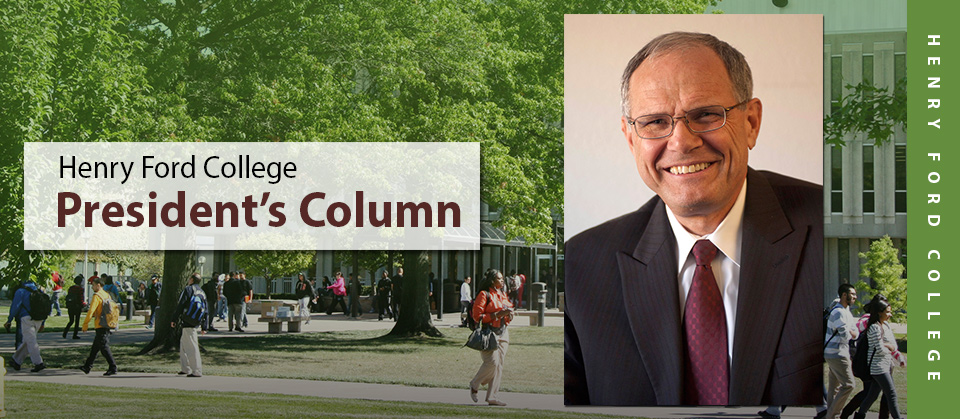 Welcome to the spring 2015 edition of Henry Ford College's CareerFocus magazine.
HFC students are working diligently in their studies and with less than two months remaining in the winter semester, I'm sure many look forward to commencement exercises, which take place May 9. This auspicious ceremony is just one of the many activities planned for the spring time. The College is preparing for the Early College commencement, the President's Gala May 16, and of course the Adray Memorial Golf Tournament May 20, which raises critical funding for student scholarships. We hope you'll take time out and join us at these celebrations.
The 2014-2015 academic year is an important one for the College, and most importantly for our students. In late April, we will welcome reviewers of the Higher Learning Commission (HLC) to our campus. This team will review HFC's ongoing ability to meet the Commission's criteria for accreditation. We look forward to their visit and working with them to ensure that HFC is doing the right things to prepare all of our students for exceptional careers.
Over the past year, a number of our programs have achieved some considerable milestones. The second cohort of the MAT2® program is well underway, and for the third consecutive year, the HFC's Respiratory Therapist (RT) program has earned the Commission on Accreditation for Respiratory Care (CoARC) Distinguished Registered Respiratory Therapist (RRT) Credentialing Success Award. Later this year, we plan to announce a bachelor's degree program, which will become the first of what we hope will be several similar programs. These are just a few examples of how HFC is working to become a student's "First Choice. Best Choice" as they consider which college to attend.
Finally, all of this would not be possible without the commitment and dedication of our board, faculty, staff, administration and most importantly our community. Our goal is to ensure that all students achieve success in their careers and lives. We are making great progress toward this goal.
Thank you again for your support of this great institution and our students, and I wish you a happy spring season.
Great things ahead,
Sincerely,
Stan Jensen, Ph.D.
President
Henry Ford College