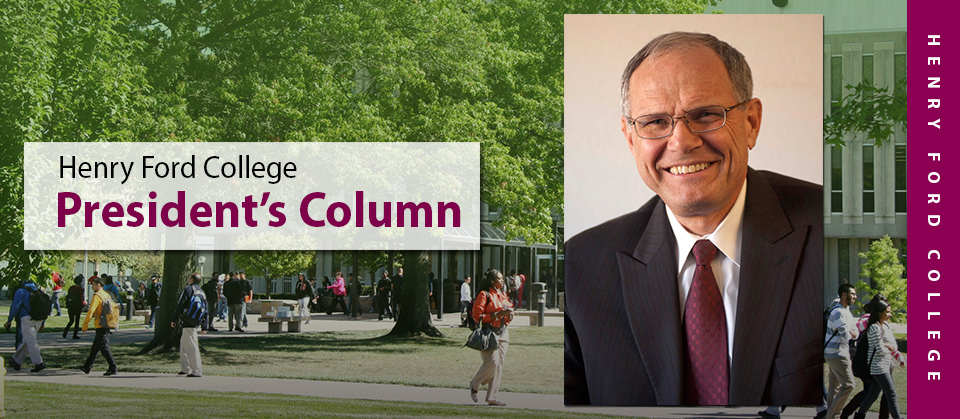 I hope you had an enjoyable and relaxing summer, and welcome you to the fall 2015 edition of Henry Ford College's CareerFocus magazine. I also want to welcome all of our returning and new students to campus, as well as faculty, staff, administrators and friends.
As we begin a new academic year at the College, we look forward to many great things ahead for our students. This fall, we are launching our new supply chain management program, which will help train students for this growing field to undertake the many jobs available within the industry sector. This new program taps the talents and expertise of our faculty and advisory organizations, and offers students an associate degree and/or certificate that represents their readiness to make an impact at companies seeking supply chain management talent.
In addition, our Henry Ford College University Center continues to expand, and we're happy to report that Madonna University and Eastern Michigan University are new partners. They join Siena Heights University in this important center, and words alone cannot express the appreciation and excitement we have for our partnerships with these exceptional institutions of higher education. Providing students the opportunity to complete their first three years of college at HFC, and then stay on campus to finish their four-year degrees with one of our university partners is a sound way to earn a college education. This approach saves time and money, while providing our students the chance to complete their bachelor degree at some of Michigan's best universities right here in Dearborn.
Finally, I want to applaud a group of Pre-Engineering students who earned selection as a finalist in the Community College Innovation Challenge Book Camp at the National Science Foundation this summer.  Their project is called "Real-Time Accident Detection on Michigan Highways," and they worked to develop a computerized accident detection system for Michigan highways. The traffic data captured by thousands of video cameras across Michigan can be processed into image pixels using Image Processing Software (IPS). You can watch a video of their work at https://goo.gl/njdk9f.
Thanks again for all of your support, and we look forward to seeing everyone on campus this academic year.
Great things ahead,
Sincerely,
Stan Jensen, Ph.D.
President
Henry Ford College