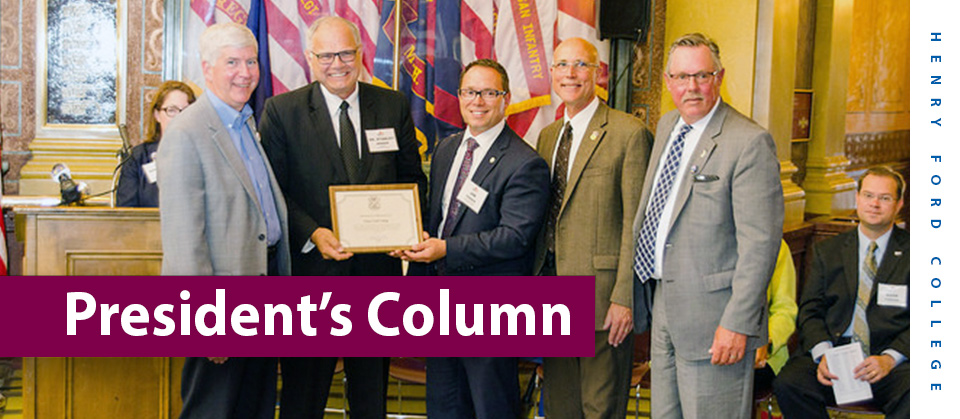 Many great opportunities await those who are prepared and ready to meet the changing needs of the new job market. This is why HFC is driven to provide an exceptional education that prepares all students for a prosperous future. And while the future will present many challenges, we must be ready to invest ourselves in gaining the skills and knowledge necessary to overcome these challenges and achieve career and life success.
In recent months, many economists have expressed concern that the new economy cannot continue to grow at a higher rate until our country educates and equips more workers with the skills they need to enter and succeed in the workforce. Henry Ford College is working diligently to do our part by making sure workers are well prepared to undertake new positions and take on even more responsibility as their careers develop.
A great example of this is reflected in the first graduation ceremony of the students who participated in the innovative Michigan Advanced Technician Training (MAT2) program this past July in Lansing. Twenty-six students graduated from the program, which is offered by HFC and Oakland Community College in conjunction with Pure Michigan Talent Connect. Mechatronics is the combination of electrical, mechanical and electronic competencies. The first student cohort graduating from this program earned associate degrees, completed their training periods and have been hired by their employers. As Governor Snyder noted during the ceremony, with the state economy continuing to grow, "the demand for talent to fill the jobs of today and tomorrow has never been greater, especially in the skilled trades. MAT2 is ideal because it lets employers develop their own talent and gives students a great start to their careers. Thanks to the support of participating employers and colleges, MAT2 is having a direct and positive impact on our state. I applaud these graduates for their success and for taking advantage of this outstanding opportunity."
We are very pleased and truly humbled to work with this powerful apprenticeship program, the generous companies who sponsor students and our partners at the state who continue to support this effort. To learn more about this program, please visit http://www.mitalent.org/mat2.
Thanks to all of you for supporting this wonderful institution. I look forward to seeing you on campus this fall.
Great things ahead,
Sincerely,
Stanley E. Jensen, Ph.D.
President
Henry Ford College
Looking for a great education at a price you can afford AND a career of importance? Let HFC help you drive toward a great career and future! https://www.youtube.com/watch?v=1aE5Q3rMdm4.
Or https://www.youtube.com/watch?v=twL5RA-A04k.