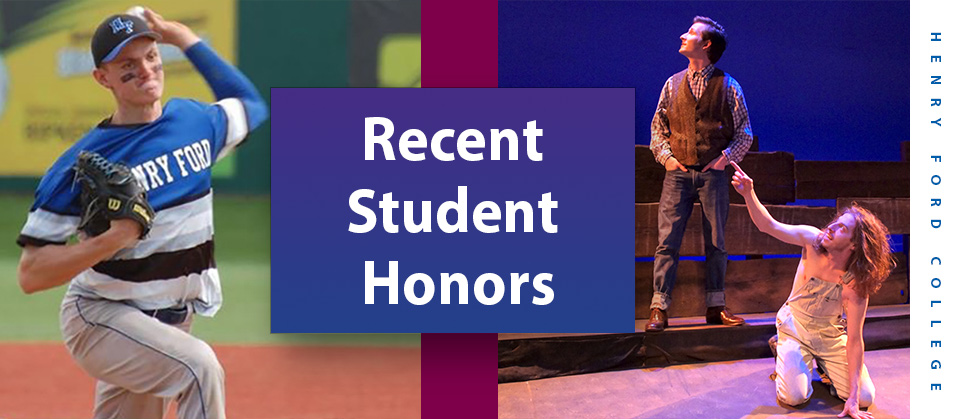 Three Acting Students Earn Nominations for Prestigious Irene Ryan Acting Scholarship
by Kurt Anthony Krug
Officials from the Kennedy Center's American College Theatre Festival (KCACTF) recently nominated HFC acting students Zachary Ross, Samantha Kenbeek and Joshua Neilson for the renowned Irene Ryan Acting Scholarship auditions.
Ross and Kenbeek's nominations are based on their performances in HFC's production of "Bug." Neilson's nomination is based on his performance in HFC's production of "The Diviners." Ross was also nominated for his performance in "The Diviners," earning back-to-back nominations.
It is quite rare for a student to earn nominations for two consecutive Irene Ryan Acting Scholarships, according to Dr. George Popovich, HFC director of Theatre. "One nomination is good. Two nominations in a row is very good. Zach is a phenomenally gifted actor," said Popovich.
HFC will receive notification in December 2016 if "Bug" and "The Diviners" are regional winners. If so, all three actors will compete at the regional level in January 2017. If successful, they will showcase their talents at the national festival in Washington, D.C.
Irene Ryan is best known for playing Granny on "The Beverly Hillbillies", the 1962-71 CBS sitcom, which earned her an Emmy nomination. She was also a Vaudevillian, who accompanied comedian Bob Hope on his famous military tours and co-starred on NBC Radio's "The Bob Hope Show" from 1948-50. Upon her death in 1973, Ryan had no surviving relatives and willed her estate of more than $1 million to start the Irene Ryan Foundation, which awards scholarships to aspiring actors participating in the KCACTF.
The KCACTF has honored HFC before. HFC's 2004 production of "The Tempest" was a regional winner. HFC's productions of "One Flew Over the Cuckoo's Nest," "Ruined," "Macbeth," and "The Skriker" have also earned KCACTF honors.
To learn more about the HFC Theatre Arts program, visit https://theatre.hfcc.edu/.
HFC Ballplayers Drafted by MLB
By Kurt Anthony Krug
The Texas Rangers drafted HFC baseball player Kyle Roberts in the 5th round of the 2016 Major League Baseball (MLB) draft and the Detroit Tigers drafted former HFC baseball player John Schreiber in the 15th round. A left-handed pitcher for HFC, Roberts graduated with his associate degree in Business Administration from HFC in May. He was a member of the Hawks Academic Team for the winter 2016 semester. The Hawks Academic Team recognizes its student athletes for earning a minimum of a 3.0 grade-point average (GPA) during the semester. Roberts credits HFC for allowing him to get more reps off the mound, gain more experience when facing better, fiercer opponents and maturing as a player. This year marked the first time in more than 20 years that HFC participated in the National Junior College Athletic Association (NJCAA) Region 12 Playoffs.
Schreiber, a Rockford native who played for HFC from 2012-13, transferred to the University of Northwestern Ohio (UNOH) in Lima, OH, on a baseball scholarship. At UNOH, he set a career record for saves. He received National Association of Intercollegiate Athletics (NAIA) honors this year. "This is truly a dream come true for me. To have the opportunity to play for the Tigers is the greatest feeling in the world and this is one of the best days of my life. I couldn't have done this if it wasn't for the coaching staff, along with my family. I especially want to thank my coaches and teammates for being by my side throughout the whole draft process," said Schrieber.