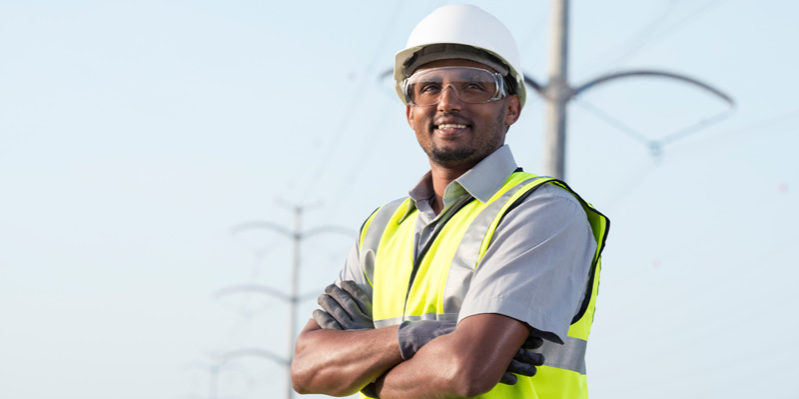 In late 2017, HFC recruited the first cohort of students for its new Power and Trades Pathways program, a collaboration with DTE Energy that was established to benefit the energy industry as a whole.
Within the next 5-10 years, half of the current skilled workforce in the energy trades will be eligible to retire, leaving a void for skilled workers in these high-paying professions.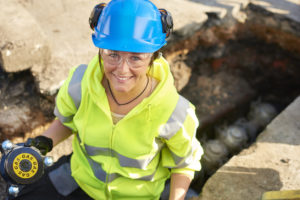 Funded through a grant from the DTE Foundation, Power and Trades Pathways trains graduates for high-demand jobs within the energy industry, including electric operations, gas operations, construction, engineering technicians, and other roles.
The program is available to high school graduates ages 17 and older. There are no upper age limits. The first cohort of the program comprised graduates from Cody High School and Randolph High School, both in Detroit. The majority of the students entered the program after working at DTE during the summer of 2017 in the Summer Youth Program, which provides hands-on experience in skilled trades.
Another cohort of students is scheduled to begin later in 2018 and is open to all.
This program is a "stackable credential" pre-apprenticeship program focused on teaching the core competencies for skilled trades. Students can obtain single or multiple certifications or degrees, thus "stacking" their credentials if they choose. This allows them to be versatile and pursue what the market demands.
Why choose an energy career?
The benefits to students are significant:
The program is aligned with

registered apprenticeship programs

. Students gain skills to obtain entry-level employment or an apprenticeship in the energy industry.
Students can explore

different career paths

within the energy industry while earning a usable credential.
Students have the flexibility to

transfer to different job training roles

in the program.
Students can decide on a career path based on their

interest and ability to pass qualification requirements

prior to taking classes.
Students gain an understanding of the physical aspects of each job role through

hands-on labs and career exploration

.
Students gain an

overview of job discipline and qualification requirements

.
Program instructors are

industry subject matter experts

and recent industry retirees, who understand the field from a hands-on perspective and years of on-the-job experience.

High-paying jobs and flexible career paths

.
According to Deborah Majeski, manager of the Center of Excellence and HR Workforce Development at DTE Energy, Michigan's energy industry employs nearly 99,000 people. The Michigan Workforce Development Agency (MDEA) estimates the Energy Cluster to grow by 9 percent through 2024.
A vibrant Michigan needs good jobs
"We know the key to a strong and vibrant Michigan is good jobs," said Majeski. "And quality education is essential to a good job."
"HFC and DTE are not only preparing these students to work in the energy industry; we are preparing them to also become leaders in the energy industry," said Rebecca Michalski, HFC Project Manager of the DTE Foundation Grant. "This field has plenty of opportunity for employment and advancement, especially since a large percentage of the workers are expected to retire within the next 5-10 years."
The next generation starts now
Vernor Jacobs, 19, of Detroit, is one of the students enrolled in the program. Right now, he's undecided on what specialty in the energy field he will pursue. Still, he has learned a lot from the classes he's taken, which have changed his perspective.
"I notice different cements, different drywall, and those sorts of things I didn't notice before," he said. "I'm learning things I never knew. There are new ideas and more knowledge."
Both Majeski and Michalski see this program as essential in developing and educating the next generation of employees to work in the energy industry, not just for one company. Majeski emphasized that this is something much bigger than working for DTE.
"This is part of our company's passionate focus to be a force of growth and a force for good in the communities where we live and serve," she said. "We see ourselves and the private sector playing an essential role in pushing Michigan forward. And building a base of talented, skilled workers is important in carrying that momentum forward."
Kurt Anthony Krug
---
Apprentice/Journeyman                                                                                                                                                      
Graduates of the HFC/DTE Power and Trades Pathways program will have a variety of career options, depending on which credentials they choose to obtain.
An apprentice is at the initial learning stage of the trade. During this time, apprentices gain the knowledge and hands-on experience to complete job-related tasks. Apprenticeships in the energy trades are paid positions that usually last 2-5 years. In the end, the apprentice will earn industry recognized credentials.
A journeyman has successfully completed the official apprenticeship qualification in the trade. A journeyman is licensed and is considered competent and authorized to work in the field as a fully qualified tradesman.
Job roles and salary expectations
NOTE: The listed salaries are estimated salary ranges based on the Bureau of Labor Statistics. They do not include overtime compensation, which is common in these types of jobs.
Overhead Line Worker Pre-Apprentice Certificate
Apprentice Salary: $55,200

Journeyman Salary: $72,110
Underground Cable Splicer Pre-Apprentice Certificate

Apprentice Salary: $55,200

Journeyman Salary: $72,110

Electric Field Operations – Service Representative Pre-Apprentice Certificate

Apprentice Salary: $41,200

Journeyman Salary: $54,420

Gas Operations – Maintenance and Technician Pre-Apprentice Certificate

Apprentice Salary: $37,600

Journeyman Salary: $43,680

Substation – Electrical Maintenance Pre-Apprentice Certificate

Apprentice Salary: $56,000

Journeyman Salary: $76,500

Construction Pre-Apprentice Certificate

Apprentice Salary: $42,000

Journeyman Salary: $48,780

Power Equipment Relay Testing or Cable Testers – Engineering Technology – Electrical Associate Degree Program: 65 credit hours

After Associate Degree: $87,610