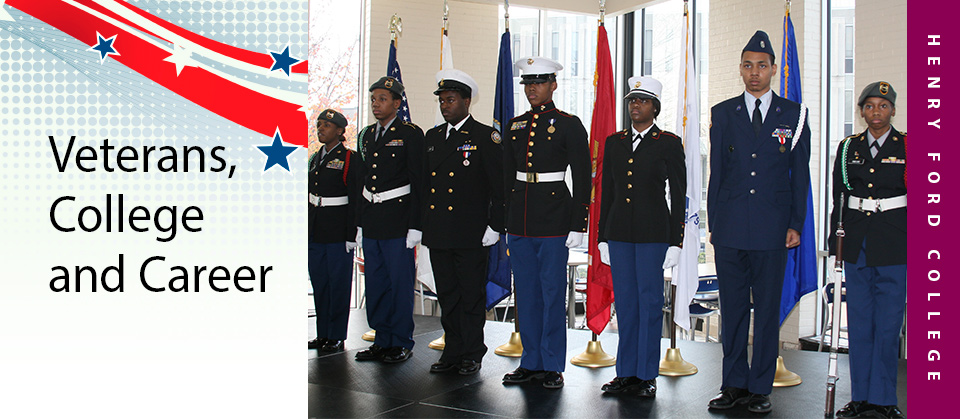 There are more than 21 million veterans in the U.S. today, about 1.6 million of whom are women. Of those veterans attending college, 43 percent of them attend community colleges across the nation.
A higher percentage of male veterans (34.6 percent) go into management and professional careers than non-veterans (32.5 percent). This is even more so for female veterans (48.7 percent) compared to female non-veterans (39.6 percent).
Both male and female veterans have a higher median income than non-veterans. The 2014 median income for veterans and non-veterans is as follows:
Male veterans: $51,608;
Female veterans: $43,962;
Male non-veterans: $46,322; and
Female non-veterans: $36,886.
Only 35.7 percent of male veterans have some college as opposed to 47.1 of female veterans who have some college. Only 25.5 percent of male veterans have an undergraduate degree or higher, whereas 31.7 percent of female veterans have an undergraduate degree or higher.
HFC Veterans Services
Earlier in 2015 and for the third consecutive year, HFC earned selection to the 2015 Military Friendly Schools ® list by Victory Media, the definitive media entity for military personnel transitioning into civilian life. HFC is in the Top 15 Percent of colleges, universities and trade schools nationwide that are ensuring the educational success of America's military service members, veterans and spouses.
"Earning the 2014-15 Military Friendly Schools ® designation puts HFC in the Top 15 Percent of all eligible schools approved for G.I. Bill funding and tells prospective students HFC is pre-vetted with leading programs and policies to support military students," said Sean Collins, vice president of Victory Media.
In 2012, HFC established the Office of Military and Veterans Service, located in the Welcome Center on the main campus. Veterans can speak to a counselor about their education benefits and how it pertains to taking classes at HFC, use the computers and gather information on other military benefits. Some veterans' military experience may even equate into a college credit(s).
HFC participates in the Veterans Retraining Assistance Program (VRAP). When President Barack Obama signed the VOW to Hire Heroes Act of 2011 into law, VRAP was included. VRAP offers up to 12 months of training assistance to unemployed veterans.
The training assistance qualified veterans receive is equal to the monthly full-time payment rate under the Montgomery G.I. Bill–Active Duty program, which is currently $1,473 per month.  The Dept. of Labor (DOL) will provide employment assistance to qualified veterans upon completion of this program.
To qualify for VRAP, veterans must:
Be between the ages of 35 and 60;
Be unemployed;
Have an honorable or general discharge (veterans cannot have a dishonorable discharge);
Not eligible for any other VA education benefits programs;
Not be in receipt of VA compensation due to individual unemployability (IU); and
Not be enrolled in a federal or state job-training program.
If a veteran qualifies for the VRAP benefit, the training assistance program must be available at a community college or technical school, lead to an associate degree or certificate and must train the veteran for a high demand occupation. For more information, please visit https://www.hfcc.edu/veterans.
Kurt Anthony Krug
The Five Essential College and Career Resources for Veterans
G.I. Jobs: Your Guide to Post-Military Success (www.gijobs.com):
A wealth of resources for veterans who are just getting ready to return to college or enter the job market. Find information about veterans' college benefits, occupations and salaries along with tips for interviewing, résumé writing and job hunting.
Student Veterans of America (www.studentveterans.org): Support and resources for veterans attending college. There are 500 chapters nationwide.
Military.com (www.military.com): Connects service members, families and veterans to a wide range of services and benefits from discounts and mentors to government benefits and scholarships.
My Next Move for Veterans (www.mynextmove.org/vets): Research your next career and determine how your military experience translates into civilian employment.
G.I. Bill (www.gibill.va.gov): Determine which veteran's education benefit is right for you and apply online.
Veteran's Benefits Pay for College                                                                  
Transitioning out of the military very often means transitioning into a new career. Veteran's benefits provide financial support for education for veterans for a variety of educational programs, including two-year and four-year colleges. Listed below is a list of G.I. education benefits:
The Montgomery G.I. Bill: For veterans who served before Sept. 11, 2001.
The Post-9/11 G.I. Bill: For most veterans who qualify, this is a more generous package of educational benefits that also includes a housing stipend.
Reserve Educational Assistance: For members of the reserve components of the military who have been called or ordered to active duty in response to a war or national emergency.
Survivor and Dependents Assistance: Provides education and training opportunities to spouses, sons and daughters of certain veterans.
Veterans Retraining Assistance Program (VRAP)/VOW to Hire Heroes Act of 2011: Provides financial assistance for training for veterans ages 35-60, unemployed and not eligible for other VA benefits.
Source: www.gibill.va.gov