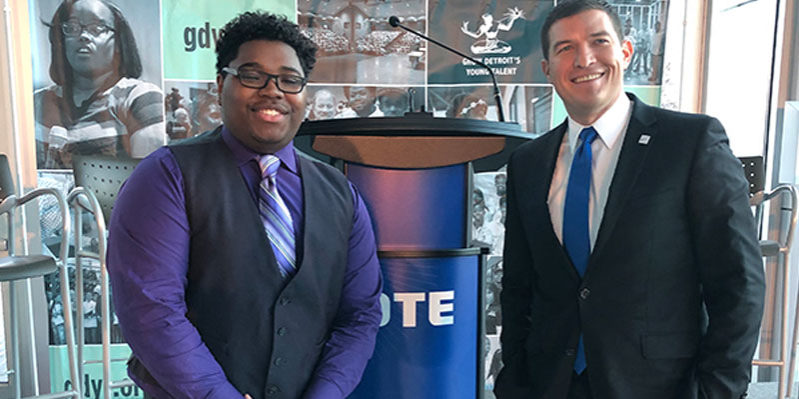 HFC student Tyrone Bean credits his success to his involvement in the non-profit organizations Grow Detroit's Young Talent (GDYT) and Developing K.I.D.S.
Bean was the youth presenter at the GDYT 2019 kick-off at DTE Energy headquarters in Detroit earlier this year, which HFC President Russell Kavalhuna and Detroit Mayor Mike Duggan attended.
"I was excited but nervous," said Bean. "Mayor Duggan said I had the best speech of the program. I appreciated hearing that from him."
Bean, a lifelong Detroiter and 2016 alumnus of the Henry Ford Academy (HFA) in Dearborn, first became involved with both organizations at the St. Suzanne Cody Rouge Community Resource Center in Detroit, where he started playing basketball at age 6.
Since age 14, he has worked with GDYT under the supervision of Developing K.I.D.S. in his summer job placement. As a youth services coordinator, Bean now teaches young kids what he learned during those years.
GDYT's citywide summer jobs program trains and employs young adults between ages 14-24. This year, the program will seek to provide 8,000 youth with employment opportunities in partnership with Metro Detroit employers, local businesses, municipal departments, non-profit organizations, and the philanthropic community. Examples of jobs include community cleanups, event planning, accounting, retail, and more. In 2018, more than 8,000 local youths received employment through the GDYT.
Bean's involvement with GDYT and Developing K.I.D.S. goes hand-in-hand with attending HFC.
"I like the programs at HFC. They are accessible and affordable," he said. "I appreciate the people at the Welcome Center. Everyone there is helpful, and they help me plan my schedule around my commitments to Developing K.I.D.S."
Bean will graduate from HFC in 2020 with his associate degree in business administration. He plans to transfer to either the Ann Arbor or Dearborn campus of the University of Michigan. His goal is to start his own line of luxury clothes.
"I want to provide luxury clothing without the high price," he said.
Developing K.I.D.S. also introduced Bean to a financial advisor. He's learned how to invest his money wisely. With that money, he bought a computer. He taught himself Photoshop and how to edit videos. This is how he pays his way through HFC.
"I've been making revenue off that computer ever since," he said. "Developing K.I.D.S. has given me many opportunities. I wouldn't have made it this far without the guidance it showed me."