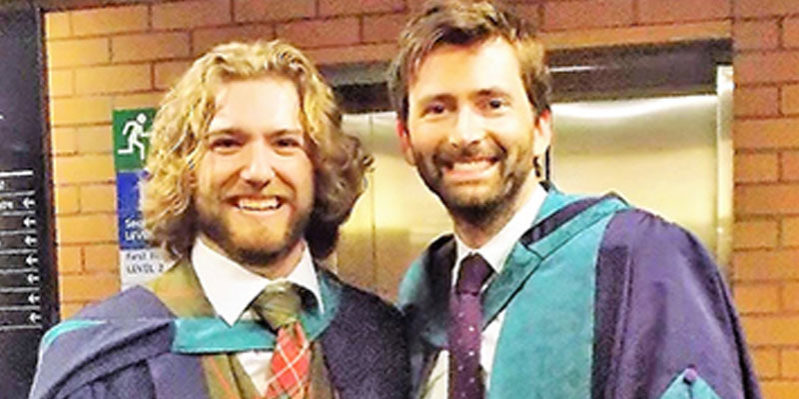 HFC alumnus Timothy Pollack initially wanted to teach history. Instead, he's living it.
"Shakespeare lets me live history. His plays are more than 400 years old. I get to wear period clothing, speak the language of the day, and get into sword fights. Theater is where it is!" said Pollack.
The classically trained Shakespearean actor, a Royal Conservatoire of Scotland (RCS) alumnus, recently played the titular character in a professional production of Hamlet in Ann Arbor, which featured several HFC alumni and was directed by HFC adjunct theater professor Gerard Dzuiblinski.
"Hamlet is my favorite Shakespearean play," said Pollack. "There's something about this play and this character… it's hard to put it into words."
This above all: To thine own self be true
Pollack admitted he had reservations about the role, given the caliber of actors who've played Hamlet and the character's many nuances and layers.
He decided to make Hamlet his own, approaching scenes in different ways. In one take, he would portray Hamlet as angry; in another, as insane.
"I didn't want to make it a Hamlet I've seen before," said Pollack. "I wanted to find what I thought fit best for the character."
A wonderful training ground
Pollack graduated in 2010 from Cabrini High School in Allen Park and in 2013 from HFC with his associate degree in theater.
"HFC was a wonderful training ground," said Pollack."The people there were very serious about theater."
At HFC, Pollack played Romeo in Romeo and Juliet  and Vince in Grease. Alongside fellow HFC alum Samantha York, Pollack co-directed 2013's Pulitzer Prize-winning drama Ruined. The Kennedy Center's American College Theatre Festival recognized Pollack, York, and Dzuiblinski for their work on Ruined. All three won a Certificate of Merit.
Pollack then auditioned for the RCS. "I was thrilled beyond words when they accepted me," he said. "I moved to Glasgow and absolutely loved it. I want to move back there as soon as possible -– it's such a wonderful city."
Royal Conservatoire of Scotland
At RCS, Pollack learned you don't get to choose your schedule. First thing in the morning, he attended body conditioning. "It whipped us into shape," said Pollack. "Theater is exhausting, so we had to build up our endurance."
There were rehearsals every evening. Pollack appeared in Frankie and Johnny, As You Like It, and others. He also directed the play BC.
Pollack earned his bachelor's degree in acting from RCS in 2016. Fellow RCS alumnus David Tennant, an Emmy winner who also played Hamlet, was the commencement speaker. Pollack had the opportunity to meet Tennant.
"He was very generous with his time and very down to earth," he said. "I had come across his production of Hamlet while I was at HFC. He was the reason I chose to be an actor. Between his talent and the encouraging words of (Dzuiblinski) and (adjunct theater instructor) Chris Bremer, I decided that theater was how I wanted to live the rest of my life."