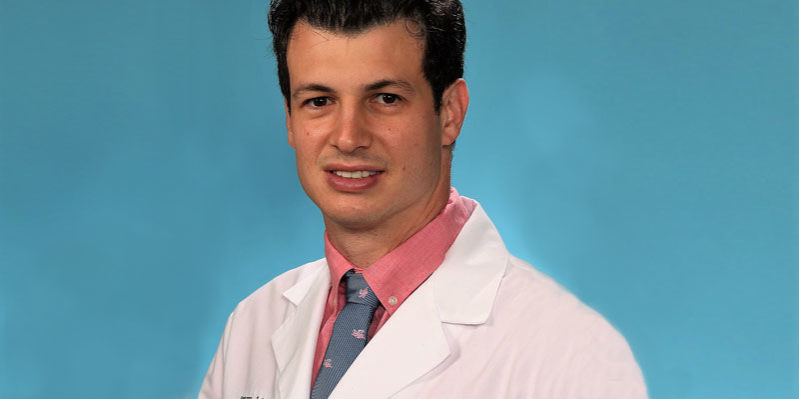 ---
At first, Dr. Jared Ross, a physician specializing in emergency medicine, was a guest lecturer in HFC EMS Program Director Shannon Bruley's classes.
Not long after, he became one of her students.
"I spoke with Shannon about wanting to complete a paramedic degree. I'd done my EMT (emergency medical technician) basics at the University of California Los Angeles. I've been a certified EMT in California, Pennsylvania, South Carolina, and Washington, D.C. While volunteering at a fire department in Pittsburgh, I started paramedic school, but never completed it," explained Ross, of St. Louis, MO.
So Ross enrolled in HFC's Paramedic program and finished his certificate in June 2018. He passed the National Registry of Emergency Medical Technicians–Paramedic (NREMT-P) exam at the end the year.
"I've always been interested in EMS," he said. "I felt that being a physician would allow me to further the field of emergency medicine and emergency medical services (pre-hospital emergency medicine), a board-certified sub-specialty of emergency medicine."
At Carnegie Mellon University in Pittsburgh, Ross earned his bachelor's degree in chemistry and biomedical engineering in 2008 while working for Eastern Area Prehospital Services and Carnegie Mellon EMS. Afterwards, he spent two years in Washington, D.C., working for the American
Red Cross.
In 2014, he graduated from medical school at A.T. Still University in Mesa, AZ. He completed his internship at the University of Pittsburgh Medical Center Mercy Hospital and his residency at Ascension St. John Hospital and Medical Center in Detroit, which brought him to HFC.
"Fourteen years later, I finally finished," said Ross. "I always wanted to finish what I started. Even though fellow doctors and paramedics would ask, 'Why are doing this? You're already a physician,' I wanted to show my dedication to EMS as a profession and to finish something that was near and dear to my heart."
Currently, he is completing a fellowship in emergency medical services at Washington University in St. Louis and is expected to graduate this June.
"As a fellow, I spend 12 hours a week in the ER and about 24 hours a week in the field, primarily working with EMS personnel. I even have a take-home emergency response vehicle. I love going out to North St. Louis County and running calls with the crews up there," he said. "Having seen both sides of the equation — pre-hospital and in-hospital — I try to focus on helping students bridge that gap. I'm just as comfortable interacting with EMTs as I am with ER staff prior to patient arrival and during patient hand-off. I have a better understanding of the pre-hospital and in-hospital management and the trajectory of patient care."