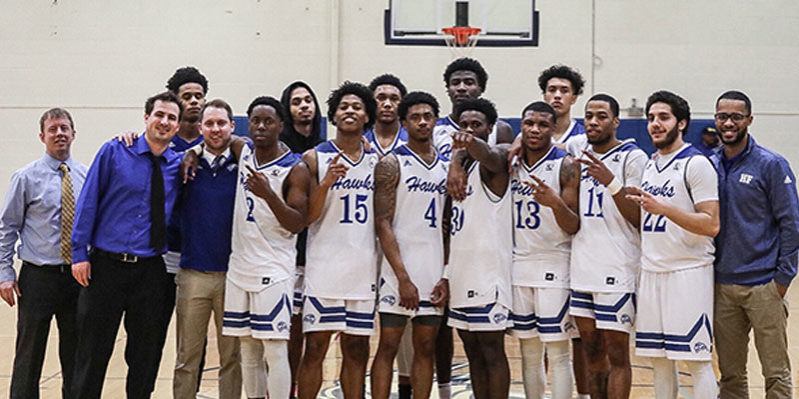 The HFC Hawks men's basketball team finished the 2018-19 season in championship form with an overall record of 23-9.
The season included multiple highlights, including: a second-consecutive MCCAA Eastern Conference Championship, the MCCAA State Championship, and advancing to the District 10 Championship game, where they concluded their season with a loss to St. Clair County Community College, 88-77.
One member of the Hawk's women's team and several members of the Hawks men's team received post-season honors from the MCCAA.
Women's team:
Mariah Mitchell:

All-Region, All-MCCAA, First Team All-Conference, All-Freshman Team, and Freshman of the Year.
Men's team:
Leon Ayers:

All-Region, All-MCCAA, First Team All-Conference, and All-Freshman Team.

Luster Johnson:

Second Team All-Conference.

Andre Johnson:

Third Team All-Conference.

LaMarkco Gulledge:

Honorable Mention All-Conference

Andrew Crawford:

All-Defensive Team.
Andre Johnson and Ayers were also named to the National Junior College Athletic Association's (NJCAA) District 10 All-Tournament Team. Head men's basketball coach Chris Shepard was voted by his peers as Coach of the Year for the second consecutive year.
"I'm very proud of our basketball players," said Athletic Director Rochelle Taylor. "They put in a solid effort all season long, both on and off the court. They truly are representative of what student success looks like at HFC."