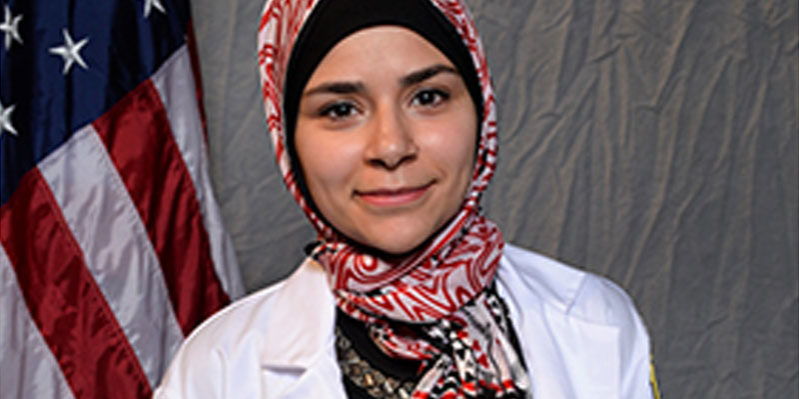 A remarkable 27 and 25 percent of the last two incoming pharmacy classes at Wayne State University are students who studied at HFC before transferring to Wayne State's Eugene Applebaum College of Pharmacy and Health Sciences.
HFC-to-Wayne-State was the path graduate student Nour Baalbaki chose when graduating from high school in her native Ivory Coast. She received her associate degree in biology from HFC in 2014, and her bachelor's degree in nutrition and food science from Wayne State in 2016.
Planning to study in the United States as some family members had done, Baalbaki, of Dearborn Heights, enrolled at HFC, where she could earn general education credits while assimilating to a new environment and education system.
Her HFC advisors immediately told her about undergraduate transfer agreements with Wayne State.
"Every semester, I registered according to their guidance, which kept me on track to transfer while earning my associate degree," said Baalbaki.
At Wayne State, Baalbaki's solid HFC foundation prepared her for studies in nutrition and food science. She's currently interning in the pharmacy at Beaumont Hospital Grosse Pointe. She also supports Dr. Paul Kilgore, director of research, who's conducting research on shingles and vaccination.
Baalbaki, a peer mentor for second-year student pharmacists, is active in the Rho Chi pharmaceutical honor society, the Fighting AIDS with Nutrition student organization, and the Arab American Pharmacist Association (AAPA).
On track to receive her PharmD in 2020, Baalbaki's studies focus on pharmacology and diabetes. She aspires to a career in teaching and research.
"Nour is an outstanding student who is poised for great things in her future," said Kilgore. "She's hard-working, conscientious, pays great attention to detail, and has a great sense of responsibility. She's also developed strong leadership skills that will benefit her in her career."