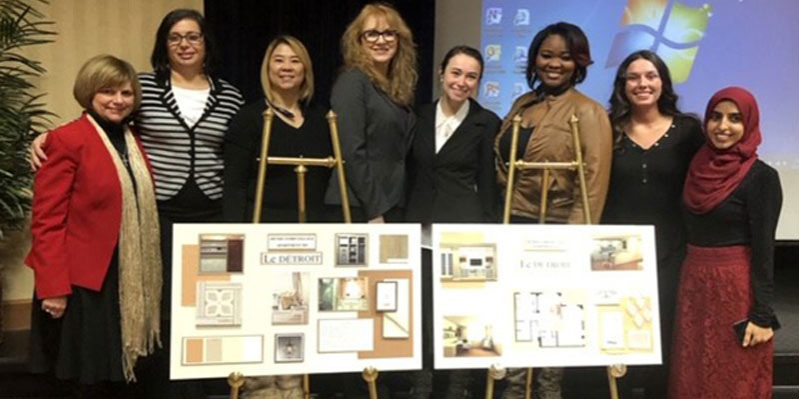 Following last year's success of redesigning a 1-bedroom apartment home at the Henry Ford Village (HFV) senior living community in Dearborn – which was sold in 15 minutes – HFV management invited the HFC interior design (ID) students to renovate two 2-bedroom apartments during the 2018-19 academic year.
"This is more comprehensive than last year," said HFC ID program coordinator Karen Wilmering. "Instead of doing this in one semester, we're doing it in two. The first semester will be devoted to redesigning the apartment homes on paper. The second semester will be devoted to the actual construction of the apartment homes. We'll collaborate with HFC's Architecture/Construction Technology (ACT) program."
Wilmering noted that the redesigns on the two apartment homes will be extensive. Plans are underway to remove walls and renovate the kitchens and bedrooms. The first half of the Winter 2019 Semester will be the construction phase. The second half will be the finish phase, finalizing the two apartment homes for sale in May/June.
In late 2018, HFC ID students presented their designs to HFV executives, including Denise Sutton, HFV Interior Design and Move-In Manager. Sutton had originally approached Wilmering in 2017 about forming a partnership between HFC and HFV.
Sutton was impressed by the most recent design concepts.
"The presentation gave me goosebumps," said Sutton. "The students' designs were not just creative, but also professionally presented. I was sitting next to our Associate Executive Director, Kari Rennie. She saw the same things I saw. I had to pause and realign my imagination. 'Was this Henry Ford Village?' This partnership between two Dearborn landmarks has developed into a rich collaboration. I'm so proud to be standing together with my management team and with Karen and her students. I have no doubt this will be a success. I'm very excited to execute the plans and reveal the outcomes." 
HFC Interior Design: hfcc.edu/academics/programs/interior-design
Henry Ford Village: henryfordvillage.com